The quest "I am become death" has brought me to Mama Dolces food processing plant in order to "Track down information about the code encryption". I have searched all round the place trying to find a door or some sort of switch that will open a door to get me into the lower levels of the building. There are no basement doors in or outside that I can find. The quest marker is clearly below the floor of the building though. The marker seems to be near a pipe outside but the exit holes of the pipe are not open. 
How are you meant to get inside here? Is this just a glitch or something? Is the quest actually meant to be completed at Mama Dolces food processing?
This one is a really hard entrance to find. You will be kicking yourself a bit when you see it but you do have an excuse for missing it, it is a very easy door to miss. The entrance is outside the building, at the rear. The door for the quest is actually inside those silver pipes outside. If you go to the left side, opposide side to where the quest marker is, you will see a small ramp going down with a red door cover over the pipe. You can interact with this to open the door and it will get you go inside.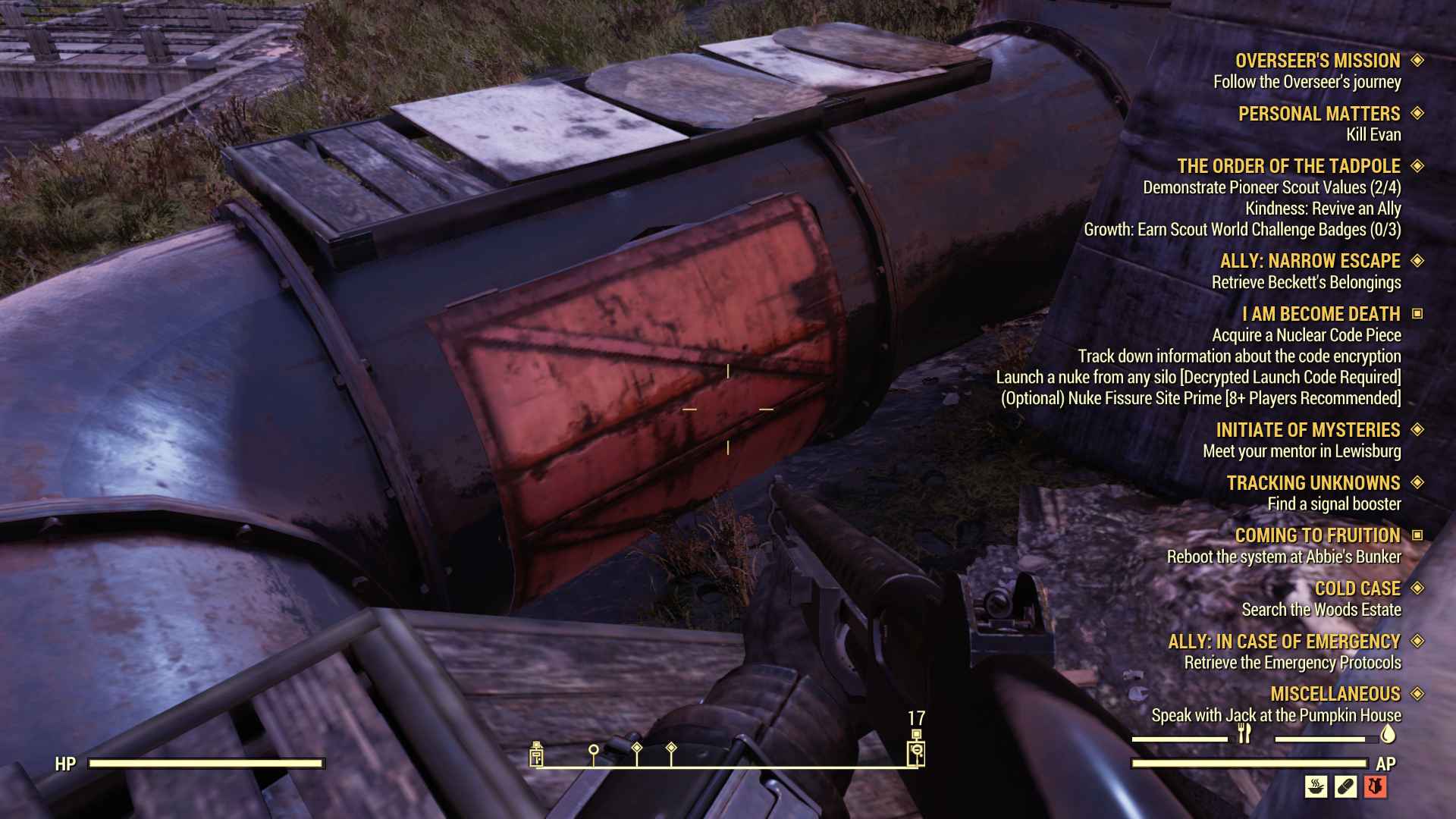 FALLOUT 76 QUESTIONS
[Fallout 76]
- I am stuck in vault 79 with the quest objective meet Jen at the laser grid. It won't update that I am there.
View Answer
[Fallout 76]
- Does the cannibal perk in Fallout 76 restore health on top of restoring your hunger when you eat a corpse, just like it does with normal food?
View Answer
[Fallout 76]
- How do you collect a sensor module from an eyebot for the trade secrets quest in fallout 76?
View Answer
[Fallout 76]
- What are claim tokens used for? I have a bunch of them taking up space in my inventory and I dont know what to do with them
View Answer
[Fallout 76]
- I am stuck inside my suit of power armour and I am holding the button to get out but nothing works.
View Answer
[Fallout 76]
- Does it cost money to move the survival tent that comes as part of the Fallout 1st subscription?
View Answer
RELATED QUESTIONS
[Fallout 76]
- How do you get down to the basement in the mama dolces food processing plant. The quest marker for the I am become death quest is pointing to the basement of the building.
View Answer