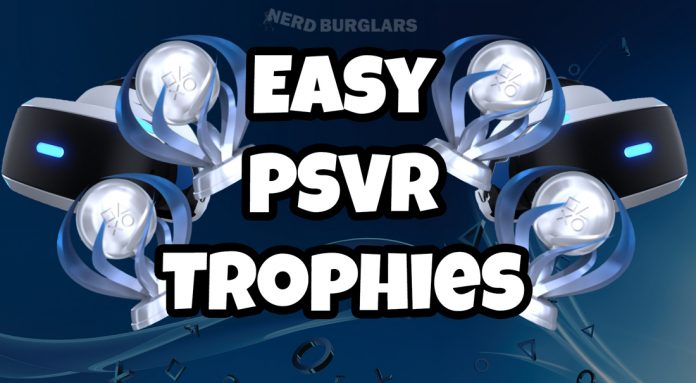 PSVR games tend to get ignored quite a bit when it comes to trophies. Most of the time it's due to the games not having platinums. For those that do, more often than not they have a short platinum. This list is dedicated to the easy PSVR platinums that are not only quick to obtain but require little to no skill.
This list is a lot shorter than any other platinum guides I have been building. I will update it as time goes on. If you know of any easy PSVR platinums, mention it in the comments below and I will add it to the list.
Accounting ++
This game is really funny. The platinum takes no time at all and the game you get to play along the way is very enjoyable. The visual style works very well with VR and with nothing to cause any motion sickness.
View Accounting++ Trophy Guide
Surgeon Simulator
This is the game that was designed for VR but came before the tech. No longer will you struggle to move your fingers. With full VR motion controls, you are in the surgery room, whacking someone over the face with a hammer. This game is a LOT of fun to play in VR and has a basic trophy list.
Tumble VR
This game is a fun and clever use of VR. I had some issues with the play area being too small. It was quite common for items to fall out of the play area, making them difficult to grab. Other than this, the game is great fun to play and is fairly easy to get the platinum in.
Bandit Six: Combined Arms
This game turned out to be a very welcome surprise. I don't remember how the game got into my collection but it turned out to be a lot of fun. Some of the levels take a few attempts to nail down some of the enemies. Nothing too difficult about this game though. I had a bit of mild motion sickness in one of the game modes, but so long as you don't look down its fine. There is a LOT of potential for more games like this in the future.
View Bandit Six: Combined Arms Trophy Guide
Island Time VR
This is one of the easiest PSVR platinums. The game itself is a bit of fun with good humor. You can clear all of the trophies in an hour or 2. You will have a bit of fun in the process, making this a must have for VR trophy hunters.
View Island Time VR Trophy Guide
Other Easy PSVR Platinums
I try to play as many VR games as I can, but I am only one person. If anyone has come across other easy PSVR platinums that are not on the list, feel free to leave a comment below…or even better, why not search the trophy list section of the site and submit a trophy guide for the game to help others complete the game easily too?