Hello, nerdburglars.net readers my name is David I'm an independent game developer and I'd love to tell you a little bit about my new android game Paddle Match.
Paddle Match is a high score chaser with one very simple goal to match the paddle colour with the ever-changing bouncing ball colour this may sound like a simple task but as you move through the game more colours get thrown into the mix meaning you'll need the fastest reactions to achieve a high score.
When you die in the game you can either watch an ad to get a second chance at beating your high score (this is the only ad in the game) or just restart as normal their is an option to get rid of the second chance ad and that will cost you £0.99 or your countries equivalent.
The game uses tilt controls to move the paddle from left to right and a simple tap to change the colour of paddle although not the conventional controls for a mobile game of this type I feel as the game's developer by choosing this control method it does well to set it apart from all the solely touch-based score chasers on the app store.
The game has a few unlockable ball skins that can be unlocked by reaching a certain high score milestone, I found while developing the game, having the standard collect coins to unlock skins wouldn't really fit my game so having the skins unlock when you pass a certain high score seemed like a good solution.
Paddle Match, of course, has all the standard google play games features that you'd expect from a game like this, a high score leaderboard so you can compete against the rest of the world, there are also 11 achievements to unlock you can see the full achievement list here.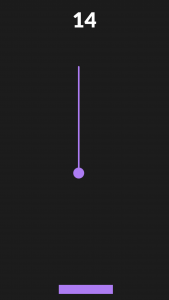 If you struggle with any form of colour blindness there's a colour blind setting in the game which just displays a white number over the top of the ball and paddle so a colour blind player would just match the numbers instead of the colours
So if any of this sounds interesting to you-you can download Paddle Match for free on Google Play. Let me know your high scores on twitter @Chair_ManGames and thank you to nerdburglars for letting me write on here this is my first time writing an article so I hope I did ok?
Thank you for reading :)
Game link:
https://play.google.com/store/apps/details?id=com.chairman.paddlematch