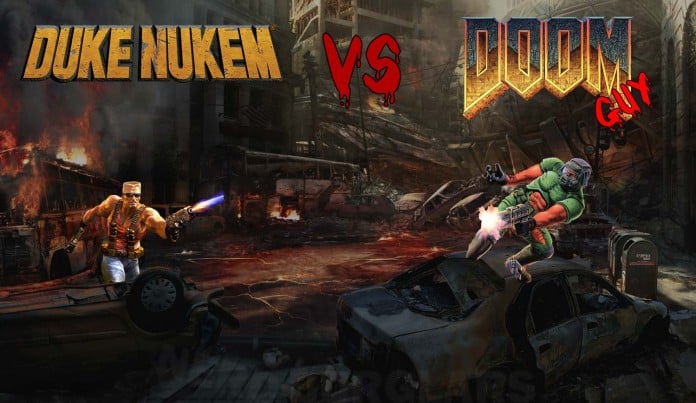 With the release of a new Doom game on the horizon, this seems like a fitting time to throw the lead characters from 2 of the most famous classic games in history against each other in the latest round of "Who Would Win?". This time we pose the question of Who would Win in a fight of Duke Nukem Vs DoomGuy!
The Doom series has never really had a consistent, named protagonist. For this fight we are going to take Doomguy from the classic Doom game rather than any of the modern characters who were not even cool enough to have their facial emotions displayed in the UI! Duke Nukem has changed very little over the years, but for the sake of consistency, we will also use classic Duke rather than modern Duke. This seems like the perfect battle, Duke  Nukem vs Doomguy. Both are humans with no super powers, but both have balls of steel. Let's see who has the biggest balls!
Physical Strength
Duke
Duke is a human tank. He is ripped and has the mighty boot kick that could shoot your balls across the street. When it comes to physical strength, Duke has no shortage.
Doomguy
Doomguy is tough as nails. He has literally been to hell and back! The Doom marines possess a lot of strength that could almost be considered super human such as being able to fall from large heights and run at impressive speeds
Result
Doomguy is tough as hell and has features that would seem super human. In past games Duke has also shown these same features, although they were never fully explained. If it came down to a grapple, Duke would have the extra strength it takes to come out on top…I admit this sounded quite sexual.
Winner = Duke
Weapons Available
Duke
Duke has a wide array of strange and unusual weapons at his disposal. The Shrink Ray, Microwave Expander and the Kick ass Devastator to name a few. Duke has no shortage to access to heavy weapons that pack a massive punch.
Doomguy
Doomguy, like Duke also has access to some unusual weapons. With Doom being a more futuristic game, the technology available to build weapons is a lot more advanced. The weapons pack a major punch. When it comes to guns from Doom, the BFG is all that comes to mind, when you want to kick some ass.
Result
This is a very close one. Both Duke and Doomguy have a lot of weapons that are insanely powerful. It's almost a close draw, but the BFG is enough to give Doomguy the edge here.
Winner = Doomguy
Ranged Combat
Duke
Duke is pretty good when it comes to ranged combat. He has the strength to hold incredibly heavy weapons and keep them steady.
Doomguy
Doomguy is capable of wielding pretty much any weapons he can get his hands on and use it effectively.
Result
There is no clear winner here. Both Duke and Doomguy have experience using weapons of the same caliber and both use them very effectively. Neither of these 2 guys have a clear strength over the other when it comes to ranged combat. If it were a battle of Duke Nukem vs Doomguy using ranged weapons, it could go either way.
Winner = Draw
Intelligence / Decision Making
Duke
Duke is a one track mind kinda guy. He kicks ass and loves babes. He has no formal training or education that we know of. Duke is just a bad ass dude who knows how to blow the hell out of aliens. He has made enough right decisions to not end up dead while fighting off hordes of aliens.
Doomguy
Doomguy is a trained marine. He has experienced military training and has given him the combat knowledge that the average Joe would never know.
Result
Duke really doesn't stand a chance in this area. Duke has the knowledge and decision making that has helped him survive, but Doomguy is a trained marine. Duke wouldn't be able to stand up to this.
Winner = Doomguy
Agility
Duke
Duke is a bulky guy, this would hurt most people, but that doesn't stop duke squeezing into small vents and jumping around the place without much effort.
Doomguy
Doomguy is quick and it is reported that Doom marines can run at speeds of up to 50 Mph. He can fall from large heights and remain relatively unhurt.
Result
Doomguy has a lot going for him here. Duke is a tank and agility is not something that comes with the territory here. It wouldn't take much for Doomguy to be able to get the edge over Duke when it comes to agility.
Winner = Doomguy
Close Quarters Combat
Duke
Duke has a lot of strength on his side. A punch in the face from Duke is going to take a lot out of you. When it comes to the mighty boot..they call it mighty for a reason. Getting up close and personal with Duke can be bad news if you are not a babe.
Doomguy
Like anyone with military training, Doomguy is going to have skills to handle close quarters combat.
Result
This could go either way. Duke has the raw strength that would make it very difficult for Doomguy to overpower him. The mighty boot is a powerful attack that would greatly impact Doomguy. Up close, Doomguy would rely on his chainsaw and this would not be considered CQC.
Winner = Duke
Weakness
Duke
Duke has one very well known weakness…babes!
Doomguy
There is very little that could be considered a weakness for Doomguy. He has the usual human weaknesses, but there is no kryptonite for Doomguy.
Result
This one is a no brainer. Doomguy has no obvious weakness that could be taken advantage of.
Winner =Doomguy
Duke Nukem Vs Doomguy – The Fight!
Both men are put into an arena to fight to the death. The map is a large industrial shipping yard. Shipping crates create tall dark hallways that obscure the view of the yard. Large cranes loom over the yard with powerful weapon spawns up top. It is mid day and visibility is clear, but the large clutter of the yard make it difficult to get a good overview of anything. The arena contains weapons from both game franchises and its a battle to the death. Duke Nukem Vs Doomguy…Fight!
Duke would immediately look for the most powerful weapon he could get his hands on. Knowing his enemy, he would be set to get his hands on the BFG to wipe out Doomguy. Duke has no training to understand what is going on inside his enemies head. The only option he has is to wipe him out with brute force. Doomguy is nowhere in sight, search for the BFG, if he spots Doomguy in the process, charge and overpower him. A brutal pummeling would be the medicine for Doomguy.
Doomguy on the other hand will know from his training that this is not the fight to use the BFG. The power up time for the BFG will give Duke time to get up close and this would be an instant end for Doomguy. In the interest of staying alive, Doomguy will keep his distance and try to take out Duke from a distance and not risk getting too close. He has many weapons at his disposal here, but first he has to locate Duke without getting spotted. The maze like clutter of the yard will make this very difficult.
Duke has spotted the BFG spawn at the top of the crane. His logic will have him think that once up top he will be able to see down on the yard and locate Doomguy walking between the shipping containers. Doomguy will be taking it slow, sneaking between the containers and over the junk scattered around the area. He quickly obtains a shotgun, chaingun and immediately hides his chainsaw to keep quiet. As he is walking through the crates he sees Duke in the distance, climbing the crane ladder. The chaingun is the only weapon here that has the potential to hit Duke, but the accuracy could result in revealing his location to Duke and causing no damage. He decides to stay stealthy. Doomguy sets a noise trap by stacking a very unstable pile of items and makes a run for it, the entire thing is going to fall any minute. Duke is now on top of the crane and has the BFG, he is scanning the area hoping to see Doomguy. He fires some random shots to blow some shipping containers out of the way. The BFG only has 5 rounds of ammo, he now has 2 left. Duke has become incredibly frustrated at being unable to locate Doomguy.
Doomguy is now below the crane waiting for his sound trap to fall. Suddenly there is a massive crashing sound from the far side of the arena. This has gotten Dukes attention, but he cannot see. Already frustrated, he jumps down from the crane to make his way to the source of the sound, thinking that Doomguy could have killed himself or be trapped under rubble. Already prepared, Doomguy spins up his chainsaw and pierces it into the back of Duke. Duke drops the BFG to the ground as Doomguy revs the chainsaw upwards, splitting Dukes head.
Winner = Doomguy
There we have it, the ultimate battle of Duke Nukem vs Doomguy is over and Doomguy is the winner. It was a close battle, but ultimately Doomguy came out on top.
Do you feel this result was incorrect or unfair? Leave comments below in your response and let me know who you think should win in a battle of Duke Nukem vs Doomguy.