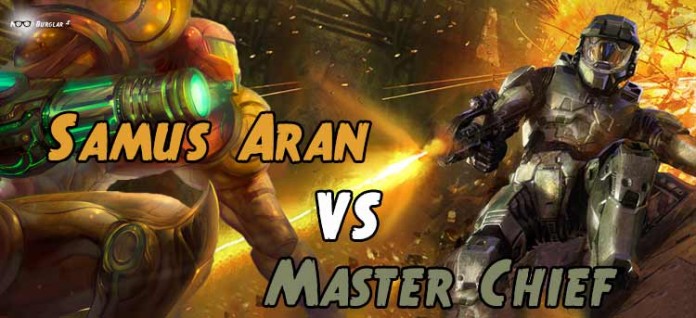 Samus Aran is the leading character of Nintendos popular Metroid series and Master Chief is the leading character from Microsofts Halo series. Both are relatively similar in appearance and reside in a similar game universe. The big question is who would win in a fight of Samus Aran Vs Master Chief?
Physical Strength / Close Quarters
| | |
| --- | --- |
| Master Chief | Samus Aran |
| With armor equipped he is over 7ft tall and weighs almost 1000lbs. Being a trained solder he is physically strong, this strength is amplified with his armor. A warthog truck weighing nearly 3 tonnes is flipped back onto its wheels with ease by The Chief, he can also carry most of the weapons that are mounted to these trucks which is enough proof that he is a tank of a man! | Samus Aran stands over 6 ft tall. Her suit gives her additional height and bulk to her physical build. She has defeated many strong and powerful enemies but her success wasn't because of her physical strength. Her combat style opts for more stun and run then attack from a distance. Her suit is not built to enhance her physical strength to enable evasive manoeuvres. |
Verdict
Samus Aran is not built for close combat nor does she ever attempt it. She has no effective melee attacks and access to melee weapons is a major drawback for her. The Chief has access to an energy sword and a gravity hammer which are 2 super powered melee weapons. With or without weapons Master Chief is a powerful person to face in close quarters due to his physical build and military training.
Winner = Master Chief
Weapons Available
| | |
| --- | --- |
| Master Chief | Samus Aran |
| He is usually equipped with an assault rifle and a pistol by default. He will also have frag grenades in his inventory. The assault rifle is a great all round weapon capable of dealing with most forms of enemies. Frag grenades are simple but effective at clearing out groups of enemies. Any other weapons need to be obtained from the battlefield. | She possesses an arm cannon which as the name suggests is a cannon attached to her arm. It is her primary weapon and offers multiple methods to fire projectiles at enemies. While it is only 1 single weapon it can changed and upgraded giving it new functionality and firepower meaning she will never need anything more than it. |
Verdict
Samus Aran has a huge advantage over Master Chief in that her primary weapon is attached to her arm and is always easily available. Master Chiefs default weapons are incredibly underpowered when compared to Samus Arans arm cannon. Unless Master Chief could somehow get an arm cannon for his MJOLNIR armor he is not going to be able to out do Samus Aran.
Winner = Samus Aran
Ranged Combat
| | |
| --- | --- |
| Master Chief | Samus Aran |
| He can use almost any weapon found in the battlefield. Along with being able to attack with any weapon he can find he also has a lot of strength allowing him to use a lot of heavy weaponry from sniper rifles, mini-guns to my all time favorite the Spartan Laser. While he may not have strong weapons always equipped he does have access to some incredible firepower which he can use with ease. | Samus Arans arm cannon is extremely diverse in what it allows her to do with it. While it might seem like a weapon capable of a single action it can be upgraded and modified to fire a wide range of different projectiles that act in different ways. This diversity negates any issues that there might be with having access to alternative weapons types. Having heavy weapon functionality in a small compact weapon is a huge advantage for her. |
Verdict
Both Master Chief and Samus Aran have access to a great variety of specialized and powerful weapons which they can both use very well. Samus Arans weapon might be attached to her allowing for her to be more nimble when in combat but when being suppressed by some of the heavy weapons available to Master Chief she might not have such a great advantage.
Winner = Draw
Intelligence
| | |
| --- | --- |
| Master Chief | Samus Aran |
| He has great combat experience and knowledge of war and battle. After extensive battles with the covenant he has knowledge of using weapons, gadgets and machines from all areas. While he may not have the brain of a scientist when it comes to battle tactics he has an edge over most enemies. | She is a trained bounty hunter with countless achievements under her belt from years of experience. The job of being a bounty hunter who has to hunt down enemies from different planets requires her to get into the mind of the enemy in order to find the best way to achieve her goal. On top of being a bounty hunter she has plenty of combat experience to back it up giving her the brains to hunt the enemy as well as being able to hunt them down and deal with the problem. |
Verdict
Being a combat hardened veteran, Master Chief has a lot going for him when it comes to using his vast knowledge of battle to be able to take down an enemy no matter the size. Samus Aran also has a lot of experience in battle but different to that of Master Chief. Samus could use her skills as a bounty hunter to give her a major advantage in outsmarting Master Chief.
Winner = Samus Aran
Agility
| | |
| --- | --- |
| Master Chief | Samus Aran |
| His suit while very good for defense offers very little in terms of agility. The suit offers some super human like powers such as an incredibly high jump it is a heavy and a bulky suit of armor. Its weight and size will definitely restrict the chiefs movements making him less agile in combat. | Her armor offers plenty of protection but at the same time gives her some degree of freedom for movement. Her suit is iconically able to allow her to curl up into a ball allowing her to roll around. While we may never know how she physically does this the fact remains that she can. |
Verdict
Samus Aran has a huge advantage when it comes to agility. Her movement in general combined with her never needing to carry external weapons and equipment around give her a lot more freedom of movement. Master Chiefs suit is more specialized for battle and not for any movements such as rolling up into a ball which Samus Arans suit allows her to do.
Winner = Samus Aran
Special Abilities
| | |
| --- | --- |
| Master Chief | Samus Aran |
| He does not contain any specific special ability. His suit is powerful but it merely does what a suit of armor should do, protect the wearer. His diversity in combat could be considered a unique feature of his. He can drive/fly almost any vehicle available, he can attack enemies using almost every ranged or melee weapon he finds along with grenades regardless of whether they are made from alien technology. | Samus Arans power armor gives her a lot of unique special abilities that other soldiers don't have. Her arm cannon being her biggest asset which is a weapon attached to her arm that other enemies cant simply pick up and use if it were dropped. Her suit also gives her the ability to curl up into a ball letting her quickly make her way trough small holes and escape from enemies. |
Verdict
Due to the lack of any special abilities for Master Chief, Samus Aran wins this 1 hands down.
Winner = Samus Aran
Weakness
| | |
| --- | --- |
| Master Chief | Samus Aran |
| He has great combat experience and while it may not give him any special abilities it does give him superb protection in battle. The suit gives him an great defence and leaves him with almost no physical weaknesses. While his love for a particular A.I may come into question it cant really be considered a weakness. | She is almost defenseless when caught in a close quarters situation. Having no melee weapons and little in terms of physical strength she could take some extreme damage if caught in a close quarters situation and was unable to escape from it. |
Verdict
Both of these characters rely very heavily on their power armor to provide them with their specific combat edge Samus Aran relies on it far more than Master Chief. On top of that she has physical weaknesses that the chief does not.
Winner = Master Chief
The Fight
Master Chief should be able to instantly determine Samus Aran's weakness and act on it. Suppressing fire on her until he can hopefully make his way to a situation where he can attack her in close combat. Armed with a energy sword the chief should be aiming to get Samus in a situation where he can attack her and she cant curl into a ball and escape.
Samus Aran with all her experience should also be aware of her weakness that that the chief will be aiming to exploit this. She will do her best to keep her distance from Master Chief, attacking him from a distance with her arm cannon in the hope she can take down his shield. Being quick and nimble should allow her to successfully keep her distance from Chief.
Master Chief has great combat ability and experience but does not have the ability to exploit Samus Arans weakness. His heavy weapons are more than enough to take on Aran in ranged combat but being bulky and heavy slow him down allowing Aran to gain a tactical advantage on him and could possibly result in her being able to flank him and take him out from behind.
Results
Master Chief = 3
Samus Aran = 5
Winner Samus
All fighting aside they would make a good couple.