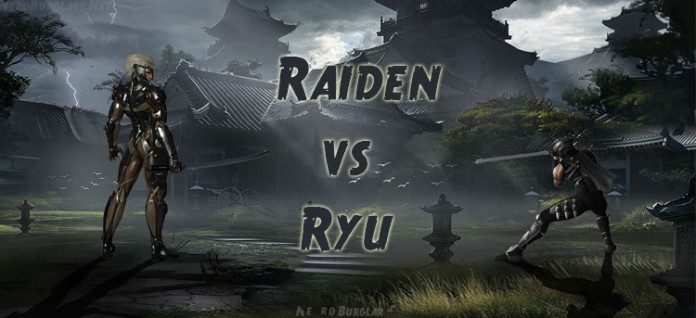 Physical Strength
Raiden
Raiden may appear to be relatively small in build considering his body is built with a cybernetic exoskeleton made from artificial muscle and steel. While it may not be large and powerful looking the exoskeleton provides him with incredible super human strength. He has demonstrated this immense strength numerous times. In Shadow Moses he chopped off his own arm and stopped a huge Arsenal Gear like ship with one arm. Raiden can lift/move several of tonnes of weight, far surpassing the strength of any human and a large amount of machines.
Ryu
Ryu is at the limit of a humans physical strength. He has at times demonstrated that he posses strength that is seemingly superhuman. Ryu as a strong bloodline and has studied several martial arts while maintaining a strong spiritual side. Ryu does not have any mechanical aides that help increase his strength, this makes his natural raw strength very impressive.
Result
Raiden is by far the stronger of the two characters. Ryu is a very powerful human but he is limited by the fact that he is still a human. Raiden can lift several tonnes with ease and has the strength to toss around armoured vehicles as if they were weightless.
Winner = Raiden
Weapons Available
Raiden
Raiden's main weapon is the High Frequency (HF) Blade. This is an incredibly sharp blade capable of cutting through enemies, structures and even armoured vehicles. The blades cutting power isn't above any other weapons in the universe, e.g the HF Murasama is a more powerful weapon when compared to the HF blade Raiden possesses. The HF blade contains a direct link to Raiden's internal fuel cells allowing the sword to be powered up in blade mode to allow for additional attack power. The HF blade when in Raiden hands often discharges electricity but due to the sheer strength of Raiden and the cutting power of the sword it really has no benefit.
Ryu
Ryu's main weapon is the Dragon Sword. The sword has been passes down through the generations of his family and holds incredible power. The dragon sword was carved out of a dragons fang and contains power imbued by the dragons before their demise. The dragon sword is one of the most powerful balanced swords ever made. The Dragon Sword is ultra sharp allowing Ryu to decapitate enemies before they can even react to his movements.
Result
Raiden's HF blade is an exceptional blade and in the hands of Raiden is a weapon of serious destruction but it does not come close to the power of the dragon sword. The HF blade has been engineered using modern technology and is beyond any weapon we could ever see in the Ninja Gaiden series but it does not hold up to the power of the dragon sword. The versatility of the dragon sword combines with the power of the dragons that contributed to its creation give it the edge when compared to any man made technology.
Winner = Ryu
Ranged Combat
Raiden
Raiden received special forces training before becoming a ninja. He was a child soldier who was trained using the militaries VR training programme along with support from Solidus. He may be young but he has had a lot of experience with using ranged weapons. In ninja form he generally avoids using ranged weapons and but has the ability to launch throwing knives at an enemy at incredibly high speed and accuracy.
Ryu
Ryu has almost no focus on ranged attack. He possesses a seemingly infinite supply of shuriken stars which he can use to attack enemies at range but their power is weak and due to his speed there is never a need to resort to ranged combat for anything other than stunning an enemy as he is charging toward them.
Result
Both Ryu and Raiden have almost no interest in using ranged combat in battle and both possess the ability to deflect bullets with their sword. Raiden has shown that he can slice bullets in half from all angles which is something Ryu has never demonstrated. While Raiden may not use his special forces training he still possess the ability to use ranged weapons very efficiently and because of this gives him the advantage.
Winner = Raiden
Intelligence / Decision Making
Raiden
Raiden has been specially combat trained to focus and work efficiently in combat. His exoskeleton combined with combat knowledge help him make decisions at lightning speed. Raiden has shown he is able to make a sacrifice for the greater good when he cut off his own arm to help Snake. Raiden's time spent as a child soldier has left whim with post traumatic stress disorder leaving him vulnerable and mentally unstable. His overall intelligence is high and is aided greatly by his genetic enhancements. He is willing to do whatever it takes to get the job done, this is a deadly weapon against most enemies.
Ryu
Ryu may be young but he has shown countless times that he is wise and is tuned in to the way of the world. He shows great understanding in the balance of the world and has demonstrated he is willing to make a sacrifice for the greater good. Ryu has had many hardships in his past but they have only made him a stronger person. His training has resulted in him being able to stay relaxed and make a good calculated decision while in combat, meditation has helped him become a calm and wise warrior. His ability to make decisions that are both efficient and morally correct show he has an incredibly stable frame of mind and is highly trained in the way of the Ninja.
Result
Ryu is spiritually strong and mentally stable. He can make quick decisions under pressure and shows no signs of stress of confusion when in battle. Raiden also possess a lot the same strengths that Ryu does but he is not mentally strong. Remote training with various martial arts along with spiritual meditation have left Ryu incredibly strong willed and knowledgeable in life and in combat. Raiden may have been genetically modified to be the best but the fact remains that he is mentally flawed. Snake is by far more wise and intelligent person than Raiden can ever be and has pointed out Raidens flaws on many occasions.
Winner = Ryu
Agility
Raiden
Raiden is incredibly quick thanks to his exoskeleton. It allows him to move around to the speed that he can run along walls and chop moving bullets in half. Thanks to the fuel cells in his suit he can slow down time and move at immense speeds that a normal human would never be able to do. The synthetic muscles can propel him very quickly when he needs to move suddenly helping him dodge attacks.
Ryu
Ryu is capable of moving around at an extraordinary rate while in combat. He is highly acrobatic and has light clothing that prevents him from being restricted in his movements. He does not possess any technology or abilities to enhance his speed and nor does he need them. Ryu is the ultimate ninja and has the speed and agility to prove it.
Result
Ryu is well built while at the same time incredibly nimble. He does not have the lightning speeds that Raiden has that allow him to perform at superhuman levels but he is capable of rounding anyone in a fight. Raiden while he is very agile and quick seems somewhat restricted in his movements when compared to Ryu. Ryu is capable of performing a flip in mid air with only his natural human legs to him propel up. His lightweight armor means he has virtually nothing to restrict his movements. Raiden's speed while far greater than that of Ryu can never match Ryu's acrobatic prowess and mastery of all things ninja.
Winner = Ryu
Close Combat
Raiden
Raiden is a highly dangerous person in close quarters. He has no specific style of martial arts but appears to be influenced by many martial art types. His martial arts knowledge combined with his military close combat training give him a unique fighting style. Raiden has lightning reflexes helping him to dodge and deflect attacks. The cutting power of his blade and his sheer strength give him the ability to chop armoured vehicles into pieces.
Ryu
Ryu is the ultimate Ninja. There is nobody who is better than him and he is still in the prime of his life. He has trained in various martial arts and specialises in his own style of martial arts called 'Hayabusa Style Ninjutsu'. His incredible speed and agility combined with massive strength make him a weapon of mass destruction when in close range. Ryu capable of decapitating enemies with ease while stringing together moves to take out large groups of heavily armed enemies without ever taking a hit.
Result
This is a very close area to judge the two characters in. Raiden has demonstrated he can destroy pretty much anything in close quarters and has taken down many large enemies but has also shown vulnerabilities in close quarters. When he faced Vamp in battle he showed he was unable to match the speed and fighting style of Vamp in close quarters. Ryu shares a lot of the same qualities in close quarters such as great swordsmanship, great speed and astonishing strength. Ryu has never shown any major vulnerabilities in combat that Raiden has. This can be attributed to his skill as a ninja. Raiden is considered to be a ninja but is not trained in the ways that Ryu was leaving Ryu the better person.
Winner = Ryu
Weakness
Raiden
Raiden's biggest weakness is his mental state. He has had a troubled life and already suffered from psychological issues before becoming a ninja. Although he may appear to be confident and fearless he is vulnerable to psychological attacks.
Ryu
Ryu has almost no weaknesses other than his mortality. He is a strong and powerful warrior who is very wise and knowledgeable. His ability to stay calm combined with his amazing fighting skill make it very difficult to pray on a weakness. Compassion could be considered a weakness as he cares for others and has shown he cares for the people in his village.
Result
Raiden has his flaws. He may have been engineered to perfection but at the end of the day he is still a human. He may be able to shrug off the pain of loosing a limb and has the ability to survive things that would kill the average human,but he cannot avoid psychological stress. Ryu is small and has very little to aide him in battle other than his skill. This may seem like it leaves Ryu at a disadvantage but it is not, simply because he does not need any aides.
Winner = Ryu
Special Abilities
Raiden
Raiden's body contains fuel cells that he charges from killing enemies and absorbing the energy from them. The HF Blade has the ability to directly draw power from these cells allowing Raiden to enter "Blade Mode". Blade mode allows Raiden to slow down time allowing him to slice enemies up into multiple pieces before time goes back to normal.
Ryu
Ryu has the ability to summon elemental forces to aide him in battle. The ninja art is known as Ninpo and is achieved through intense meditation. It allows him to control and manipulate the forces of nature. Ninpo can be used to summon several forces such as a fire dragon that can destroy or gravely damage all enemies under the area of effect.
Result
This is another very close result. Ryu's elemental abilities are highly powerful and are almost impossible to counter or dispel. Raiden's blade mode is also a great power and also cannot be countered due to the sheer speed that he can move at while in blade mode. Raiden may be able to use blade mode to dodge any of Ryu's Ninpo powers but he can never counter them. On the other side Ryu would be unable to counter or dodge Raiden if he was up close and in blade mode. Ryu's Ninpo is cooler but in terms of advantages in combat Raiden has the upper hand.
Winner = Raiden
The Fight!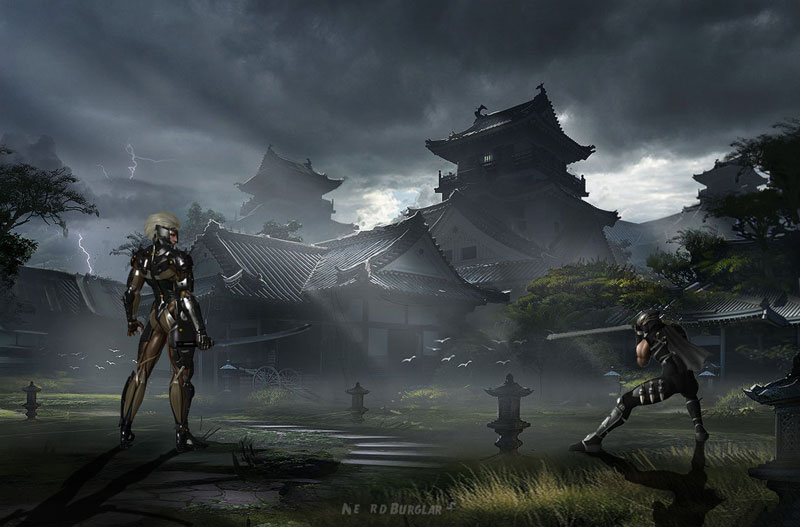 The two characters will instantly make a dash for each other deflecting any projectiles that are thrown. The run will lead to a heavy clash of swords as both Ryu and Raiden put all their force against the each others blades. Ryu stairs into Raiden's eyes but Raiden shows no fear and increases the pressure placed against Ryu's blade. After an intense stair down Ryu breaks out and unleashes a relentless barrage of sword attacks against Raiden. Raiden who has highly underestimated the intense speed and strength of Ryu struggles to hold back the attacks. Raiden realises that his only hope to land an attack on Ryu is to find fuel cells and enter blade mode. Raiden gathers all his strength and unleashes a powerful counter attack causing Ryu to be pushed back. Raiden instantly turns and runs away from Ryu, he looks back while running to see that Ryu has vanished. Raiden is frantically searching for fuel cells when he stumbles across two soldiers. After slaughtering both and fully charging blade mode he is ready to fight! He turns and begins to hunt for Ryu.
Raiden returns to the open area where the fight began to find that Ryu is silently meditating. Ryu does not acknowledge Raiden's arrival but is fully aware of his presence. Raiden believing he has the upper hand makes a run for Ryu hoping to get close enough to enter blade mode before Ryu has time to grab his sword. Raiden sets forward in a high speed dash he is meters away when Ryu abruptly rises. The area around Ryu begins to scorch as immense heat begins to come from Ryu. He moves and begins to charge fire from the palm of his hands. Raiden needs to land a strike on Ryu but is too far away to attack. Ryu leans back and pushes forward, a large flaming dragon is emitted from his hands and it lunges toward Raiden. Left with no other option Raiden enters blade mode in an attempt to dodge or counter the flaming elemental dragon. Raiden is successful in avoiding the devastating effect of the dragon but has lost track of Ryu in the process. He looks up to see Ryu is no longer standing in the same position. He reaches down for his sword when suddenly his hand is cut clean off his body and Ryu's blade is now held firmly against Raiden's neck. Ryu shows mercy and offers to spare Raiden's life, before Ryu can finish speaking Raiden grabs for his sword using his remaining arm. After a swift strike Raiden's head falls to the ground with white synthetic blood flooding the area around his decapitated body.
Winner – Ryu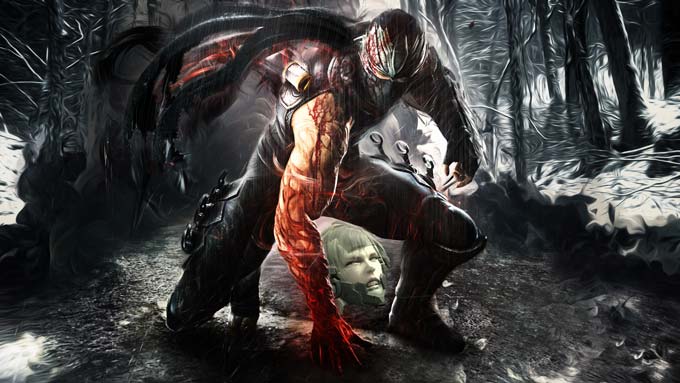 Raiden may have been quick and strong but was unable to match the flawless technique and swordsmanship possessed by Ryu and because of this lost the battle.