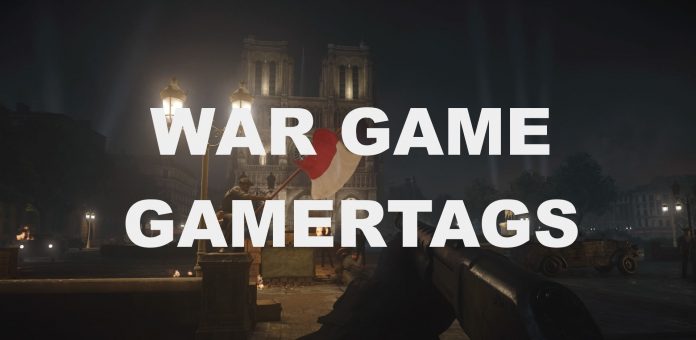 The competitive multiplayer scene is jammed full of awesome war games. Franchises like Call of Duty, Counter-Strike and Battlefield are some of the most popular games set in a traditional war scenario with military equipment. If you are a big fan of these types of games, here are some great Gamertag ideas for war games that you can consider using for your online profile.
As this post gets a bit older, chances are that the username suggestions here are going to get used up. You may need to add some numbers or spin the Gamertag in order to make it more unique. If you want some fresh names, check out the Gamertag generator for war games and it will give you countless fresh ideas. I regularly update it with new content.
Liquid Dragonfire
Explosive Armor
Thunder TNT
Crypto Warhead
Supersonic Magrail
Nuclear Spearhead
Steel Bomb
Lightning Railgun
Atomic C4
Hyper Howitzer
Riot Humvee
Turbo Torpedo
Fire C4
Platinum Battleship
Valiant Missile
Hyper Speed Bomber
Volcanic Battleship
Nuclear Landmine
Iron Warfare
Radioactive Warship
Satanic TNT
Atomic Flanker
Suicidal Hellhound
Turbo Nuke
Lightning LMG
Thermal Claymore
War Game Specific Gamertags
For those looking for Gamertag suggestions for a specific game, for example, you want a name that fits really well inside the COD universe, then leave a comment below and people can come up with some cool suggestions based on what you are looking for. Since there are load of different war games out there, this post will end up going on forever If I have to post them for all of the popular games out there. If someone has some cool content they want to add, please add it to the comments section below, it will be great to boost this list to make it even better.
Some of the most popular war games at the moment would be COD, Battlefield, Counter-Strike, PubG. There are other games based on combat like Overwatch but they are not really the traditional military shooters with tanks and the common loadouts and gameplay style you would expect to see in a modern military.