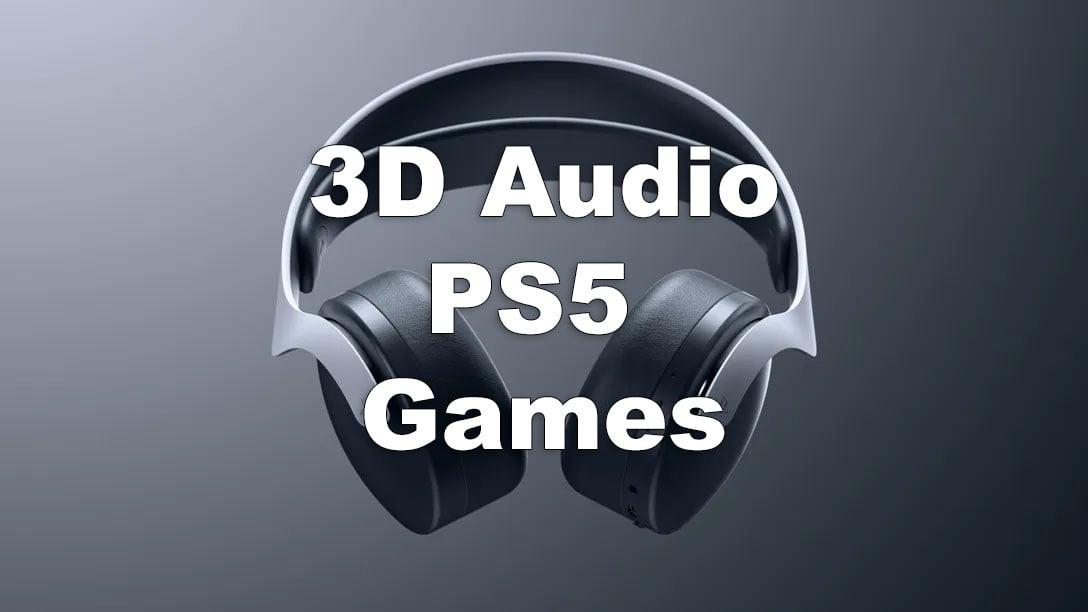 3D audio has not quite reached the mainstream adaptation that 5.1 surround sound has in the movie industry. Much like standard surround sound, 3d audio such as Dolby Atmos is available for video games. Unlike Microsoft, which have added dedicated support for Dolby Atmos on their Xbox Series console, Sony has taken a different approach.
Tempest 3D audio is a custom audio engine that Sony has developed and is going to be the engine that powers 3D audio on the PS5. When the console first launched, this 3D audio support was exclusive to the Pulse 3D headset. However, with the release of firmware updates for the PS5, 3D audio is now available for all types of speaker setups that you can set up with the PS5.
For those who have a surround sound system or better yet, a home cinema setup with high speakers, you can take advantage of this new update, assuming you can find a game that supports 3D audio!
*Please leave a comment below if any games that support 3D audio on the PS5 are missing from this list.
List of PS5 Games That Support 3D Audio
Games that are making use of the Tempest 3D audio engine are relatively low at the moment. Much like the pattern we are seeing with adaptive trigger and haptic feedback, support for 3D audio is generally seen in games that Sony has some kind of involvement in. There are a few developers outside PlayStation Studios making use of it however and hopefully, we see more of it.
Assassin's Creed: Valhalla
Astro's Playroom
Call of Duty: Black Ops Cold War
Crash Bandicoot 4: It's About Time
DIRT 5
Deathloop
Demon's Souls
Destruction: AllStars
Devil May Cry 5 Special Edition
Final Fantasy XIV (PS5 patch required)
Gran Turismo 7
Horizon: Forbidden West
Immortals Fenix Rising
Marvel's Avengers
Marvel's Spider-Man Remastered
Marvel's Spider-Man: Miles Morales
Nioh 2 Remastered
Nioh Remastered
No Man's Sky
Oddworld: Soulstorm
Ratchet & Clank: Rift Apart
Resident Evil: Village
Returnal
Sackboy: A Big Adventure
Spider-Man: Miles Morales
Spider-Man: Remastered
The Pathless
Tony Hawk's Pro Skater 1+2
Do You Need Dolby Atmos Speakers For Tempest 3D Audio?
Is it possible to use the Tempest 3D audio on the PlayStation 5 if you do not have a full-on Dolby Atmos style speaker setup? According to sony, yes! You need to be realistic about it, however. You cant expect to get the same effect that a 9.1 speaker setup gives if you have a 2.1 soundbar.
The more speakers you have, the better the audio experience will be. At a minimum, Dolby Atmos requires a 7.1 speaker setup where there are two high channels on the ceiling to be able to build the 3D audio sphere that we hear referenced so often with 3D audio.
Can You Get 3D Audio With 5.1 Speakers?
According to Sony, it should be possible to get some of the benefits of the Tempest 3D Audio engine with any kind of speaker setup. The more speakers you have in your setup, the better the 3D audio will be. Although 5.1 is not enough to qualify for a Dolby Atmos setup, you should get some benefits from the Tempest engine with a 5.1 setup, but do not expect it to be as good as a setup that contains high channels (i.e. speakers on the ceiling speakers).