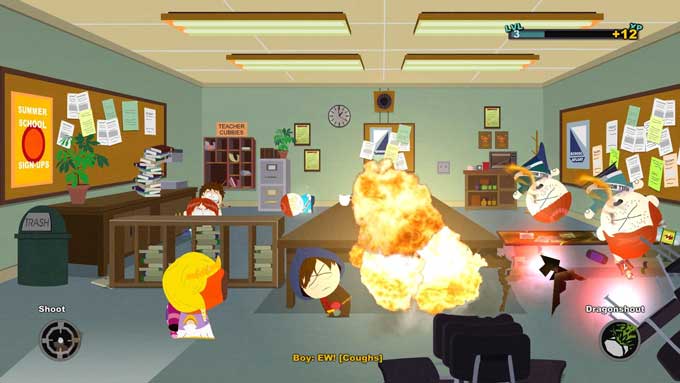 After a lengthy wait gamers have finally got their hands on The Stick Of Truth and it is generally very well received by fans of the TV series. The latest South Park game has given gamers hope that video games based on animated series can actually work and be incredible amounts of fun! While South Park Studios with the help of game developers Obsidian have been accurately able to recreate the town of South Park as a virtual world they have not always been this lucky with South Park branded games. We dive into the history of South Park video games.
South Park – N64, PS1, PC (1998)
I am a huge South Park fan but I was unable to see past a lot of the shortcomings of this game. At the time of release the graphics were great and it did a good job of nailing South Parks visual style. The characters were voiced by the creators of the show which was also great but after a while the repetitive comments and quotes became seriously irritating, The 4 kids had a handful of lines that they would repeat non stop for the duration of the entire game. The different stories of the game were all linked to episodes that had been released but were tweaked quite a bit to suit a video game setting. This resulted in a lot of the objectives being quite boring and seemed designed just to prolong the game without providing a lot of entertainment.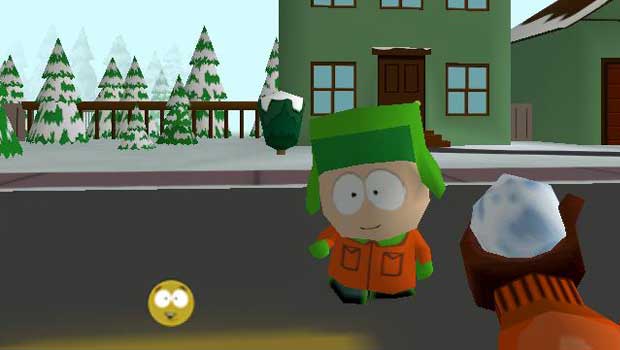 Chef's Luv Shack – N64, PS1, Dreamcast, PC (1999)
Chef's Luv Shack slipped under my radar when it released. It wasn't until I had a PS2 that I discovered there was a second South Park game for the N64. Chef's Luv Shack was a party game designed to play with friends. It contained a series of questions which were then followed by a mini game. The game contained a measly 23 mini games which would obviously become worn out after a few plays. The critics reviewed this game quite negatively and it never appeared to be a game fans remembered all that well.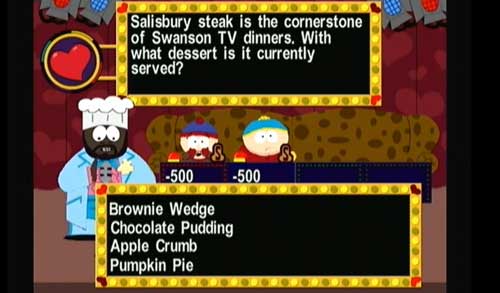 South Park Rally – N64, PS1, Dreamcast, PC (2000)
South Park Rally is an attempt at making Mario Kart in South Park. I already owned and loved Mario Kart for the N64 when I first played this game so it obviously wasn't able to live up to the standard set by Mario Kart. The idea of a South Park themed Mario Kart game seemed awesome but unfortunately the racing in it was terrible. The cars were difficult to control and the tracks were poorly designed for the way that the vehicles handled. The awesome humour of South Park was not enough to make this game the hit that it could have been. I would love to see a second attempt at a game like this simply because the humour and ideas in this game were great it just fell short on the most important factor of a video game..the game play.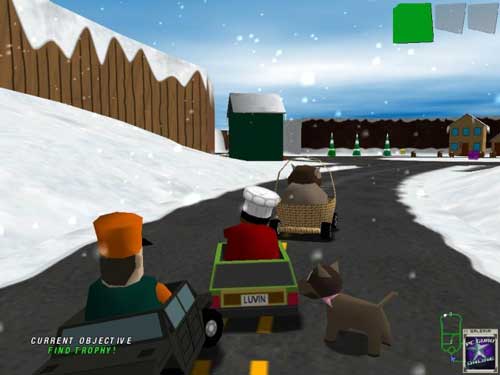 Let's Go Tower Defence Play! – Xbox Live Arcade (2009)
After a long break from video games South Park finally came back to the video game world with Let's Go Tower Defence. The game is a small browser style tower defence game. As always it is a standard game mechanic wrapped up in the usual South Park charm. To most peoples surprise this game was received quite well receiving better scores than any South Park game released in the past.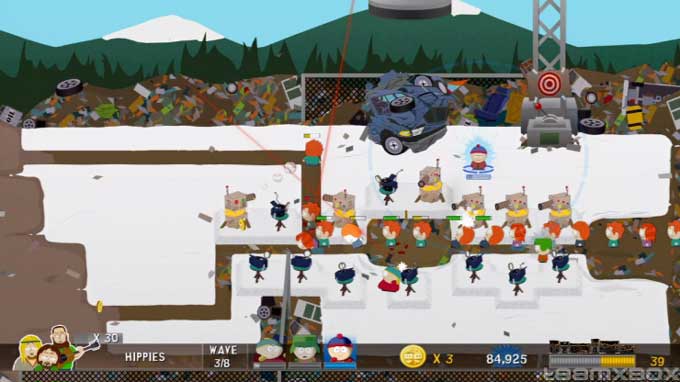 South Park: Tenorman's Revenge – Xbox Live Arcade (2012)
Tenorman's Revenge is a side scrolling platforming game released as an Xbox Live Arcade game. As with the previous game it was a relatively low budget game when compared to games of the past. This game was released around the same time as The Stick of Truth was starting to get leaked onto the web. The game was reviewed relatively well but it never really reached any huge success.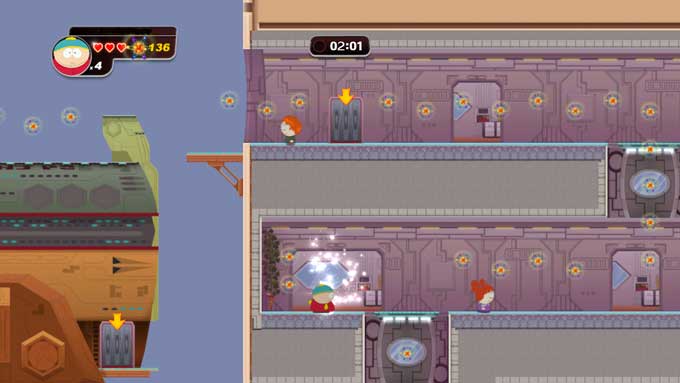 South Park: The Stick Of Truth – PS3, Xbox 360, PC (2014)
This game was a long time in the making and it sure was worth the wait. After years experimenting with different game genres and play styles it appears that a 2d(ish) side scroller(ish) RPG is the way to go for South Park games. The Stick of Truth has accurately captured the look and feel of South Park and made it into a video game world. As with all previous South Park games The Stick of Truth is a great laugh to play. The South Park humour is as funny as ever but this time things are different..the game play doesn't suck! Not only does the game play not suck, its awesome! The Stick of Truth is a brilliant game that is both funny and true to the style of the Tv show while remaining an incredibly fun game to play.