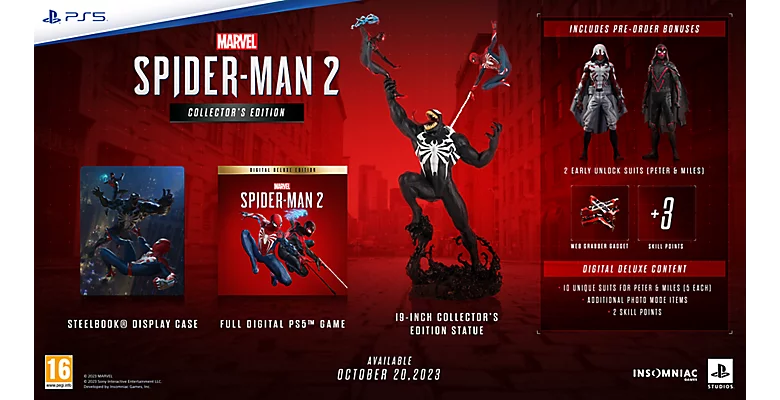 I have really gotten into the collectable figures over the past few years, the hype train was speeding when I found out about the upcoming release of Spider-Man 2 and the collectors edition that cames with a massive figure…..along with a fairly hefty price tag of €250.
The Collector's Edition comes with an absolutely jaw-dropping Venom figure. I mean, it's so incredibly detailed and well-crafted that it's hard not to be in awe of it. However, there's just one tiny problem – it's a massive 19 inches tall! I've been doing some measuring around my room, and I'm starting to realize that I might not have the space for this monstrous figure. I mean, who knew that a 19-inch figure could cause such a dilemma?
If I can't find a place for it in my room, maybe it's time for Venom to take center stage in the living room. Surely the missus won't mind?
The hype surrounding Spider-Man 2 is absolutely unreal, naturally. With the incredible success of the first game, expectations are sky-high for this sequel. I've been following every bit of news and updates, eagerly anticipating the chance to swing through the streets of New York City once again as our friendly neighborhood Spider-Man.
The addition of Venom as a primary antagonist adds a whole new level of excitement to the game. The thought of epic battles with one of Spider-Man's most iconic foes has me counting down the days until the game's release. Plus, the Collector's Edition comes with a bunch of other goodies like exclusive art prints and a steelbook case – it's like Christmas came early!
So, even though the price of the Collector's Edition might seem steep, I'm confident that it'll be worth every penny. And hey, if nothing else, I'll have an amazing Venom figure to show off – even if it does end up as a centerpiece in my living room.