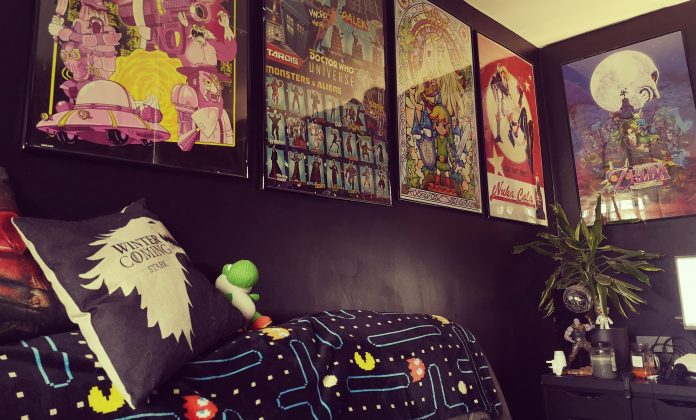 Artwork in gaming is one of the many ways that you can show your love for a title or a genre. But it is also a great interior design tool for your gaming room. In this article, we will be looking into the top 5 benefits of artwork for your gaming room.
Show Your Own Personal Style
Showing your personal style is a great way to decorate and adding posters or artwork on the walls can make a great difference. In a creative space, showing your individuality is crucial. This will allow you to make a space that you are happy to spend time in. By making the posters or artwork that you want and Hanging them in a specific way can help you to make a room that is welcoming for you.
Removes Negative Space From The Wall
Negative space of any kind can have a negative impact on the mind so why not make it creative. With numerous options for posters and artwork themed around your favourite games, films or Tv shows, this is a great way to give the room personality. Whether you buy them online or you make your own custom printing canvas, you can create the perfect style for your game room without having to spend a small fortune. This is a creative process that can allow you to make a gaming room that you love, regardless of the space that you have.
Artwork Can Easily Be Changed
In addition to the removal of negative space in your room, it is important to note that it can also be changed. Artwork can be hung on the wall and replaced when your interests change. This is a great way of redesigning your gaming room without having to repaint. This is an amazing way to keep your room fresh and limit the amount of painting and decorating you have to do. It is as simple as removing the poster or artwork from the wall without having to have it.
Can Work With The Colour Theme Of The Room
The colour theme of a gaming room is crucial when it comes to comfort and concentration. Whether it is the colour of the walls or the colour of the furniture, this will allow you to find artwork that matches with it. Whether it is a gaming poster, artwork of a character or a painting you have made yourself, this is the option for you.
Is A Great Conversation Starter
The final reason to add artwork to your room is to start a conversation. Whether it is a simple game poster or artwork of your favourite franchise, this is a great way to start a conversation with like-minded people. By adding to this and creating a collection, you can then continue to build a room that you and your friends would love to spend time in.
With this in mind, artwork is the greatest tool to help you make a creative space that you can customise again and again. Where will you be starting?