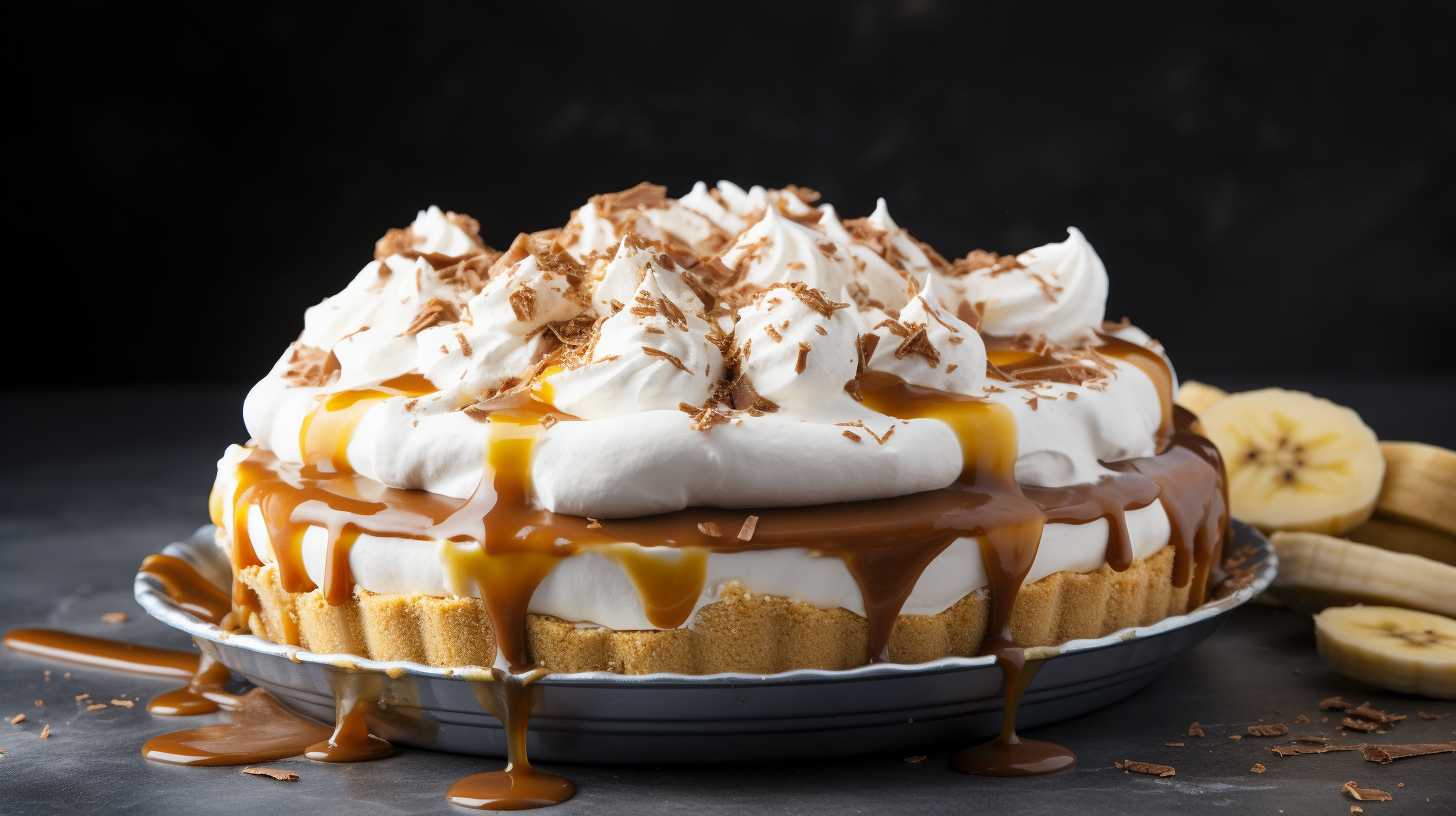 Welcome to the world of 'Halo' where the excitement of the game meets the sweetness of a classic dessert. Get ready to indulge in the deliciousness of Grunty Banoffee Pie, a dessert that combines the flavors of caramel, bananas, and whipped cream. This recipe takes inspiration from the 'Halo' game and adds a fun twist to the traditional Banoffee pie by giving it a Grunt-like makeover.
The Grunty Banoffee Pie features a graham cracker crust, a rich layer of caramel made with sweetened condensed milk, fresh slices of ripe bananas, and a generous topping of whipped cream. To honor the iconic Grunt's character, we even add a touch of green to the whipped cream. The result is a dessert that not only satisfies your sweet cravings but also brings back memories of your gaming adventures.
So, put on your chef's hat and get ready to prepare a dessert fit for a gamer. Follow the detailed steps provided and soon you'll be savoring a slice of Grunty Banoffee Pie. Let's get started on this delectable journey that combines the joy of gaming with the pleasure of dessert!
Enjoy creating and indulging in this Grunty Banoffee Pie inspired by the 'Halo' game!
Grunty Banoffee Pie Recipe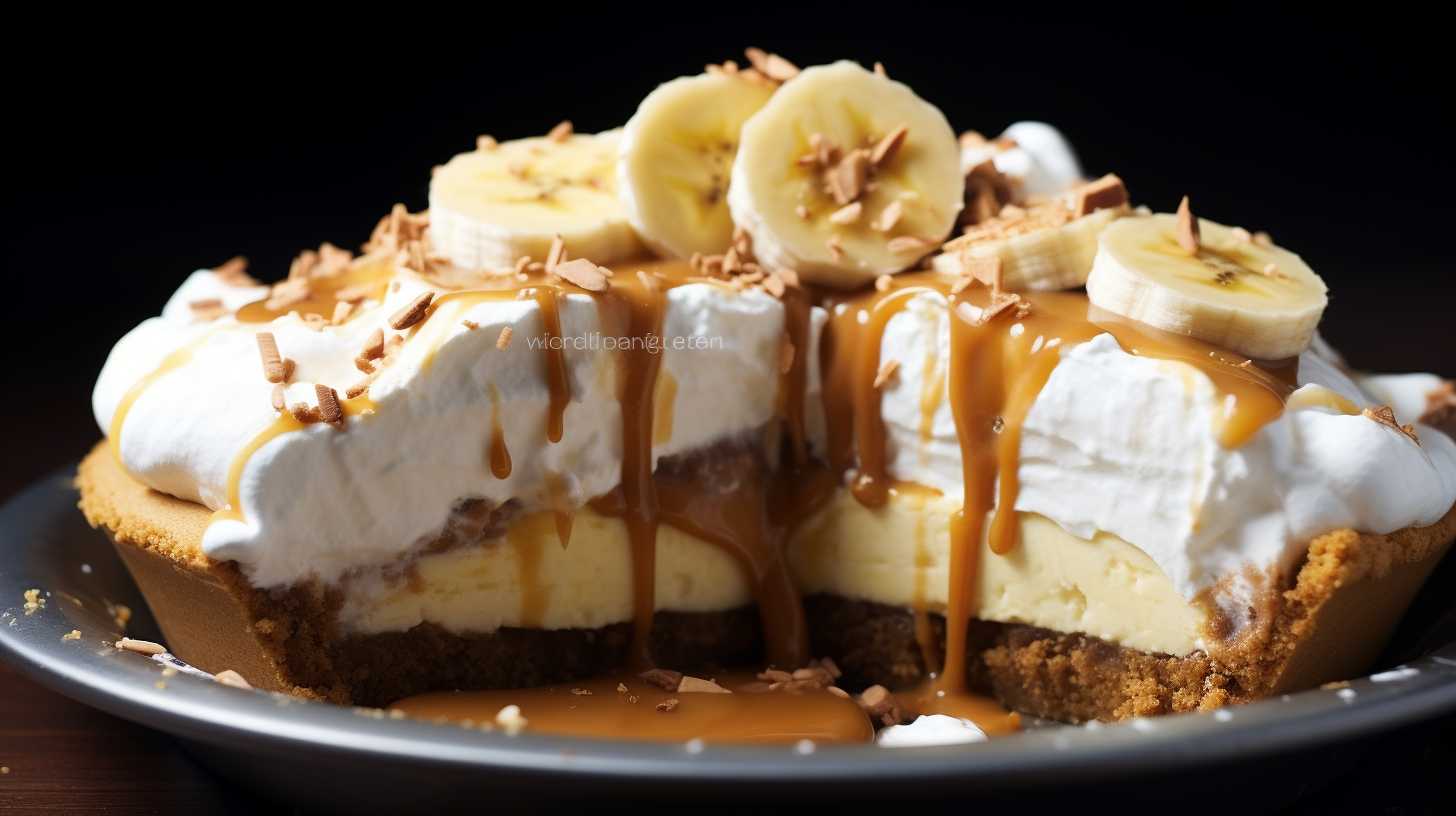 Ingredients
1 cup graham cracker crumbs
1/4 cup sugar
1/4 cup unsalted butter, melted
1 can (14 oz) sweetened condensed milk
1/4 cup unsalted butter
1/2 cup brown sugar
1/2 tsp salt
1/2 tsp vanilla extract
2 ripe bananas, sliced
1 cup heavy cream
1 tbsp sugar
Green food coloring (optional)
Whipped cream and green sprinkles for garnish
Instructions
Preheat the oven to 350°F (180°C).
In a medium-sized bowl, mix together graham cracker crumbs, sugar, and melted butter until well combined.
Press the mixture firmly onto the bottom and up the sides of a 9-inch (23cm) pie dish. Bake it for 8-10 minutes or until the crust is lightly browned. Remove from the oven and let it cool.
While the crust is cooling, prepare the caramel. In a medium-sized saucepan, heat the unsalted butter, brown sugar, and salt together over medium heat until it starts to bubble. Stir occasionally and cook the mixture for about 2-3 minutes or until it thickens and turns light brown.
Add the sweetened condensed milk and vanilla extract to the saucepan, whisking continuously. Cook the mixture for another 5-7 minutes or until it thickens and becomes caramel-like.
Spread the caramel over the cooled crust, covering it evenly. Let it cool for 5-10 minutes.
Add the sliced bananas over the caramel layer, covering it evenly.
In a medium-sized bowl, beat the heavy cream until it starts to thicken. Add sugar and vanilla extract and continue to beat until stiff peaks form.
If desired, add a few drops of green food coloring to give the whipped cream a Grunty-like appearance.
Spread the whipped cream over the banana layer, covering it completely.
Refrigerate the Grunty Banoffee Pie for at least 2 hours or until it firms up.
Once chilled, top the pie with a dollop of whipped cream and a sprinkle of green sprinkles to mimic the Grunt's armor.
Cut and serve, and enjoy your delicious Grunty Banoffee Pie dessert inspired by the 'Halo' game!
Note: Feel free to get creative with the presentation by garnishing the pie with extra banana slices or drizzles of caramel sauce.
Enjoy your Grunty Banoffee Pie inspired by the 'Halo' game!