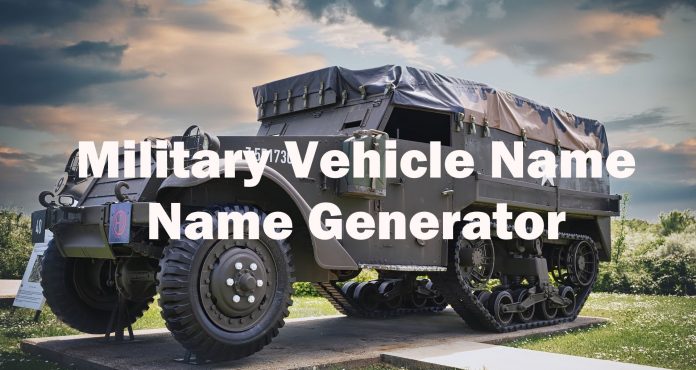 Are far as machines go, those that are used by the military are some of the most badass. Machines designed to kill and destroy generally look aggressive and are deserving of a badass name. Iron and steel delivering destruction to the enemy. This page contains a military vehicle name generator. It will come up with lots of kickass names to give to military machines and vehicles.
Generating names is a simple as using the button below. Click it and it will give you a suggestion. The names are best suited toward land vehicles such as trucks, jeeps, tanks and other land-based weapons that contain some kind of engine. There may be some potential here for jets and planes, but heavy sounding names of iron and steel tend not to work with jets which are designed to be nimble and lightweight.
What Type of Military Vehicles does this Name Generator work for?
The names that this military vehicle name generator provides are mostly heavy sounding names. Names that would be best applied to a tank, troop transport vehicle or some kind of armored gun. My goal was to make the names sound heavy, aggressive and destructive. This makes them best suited for land vehicles.
If you are looking to come up with some names for planes and jets, this tool may be of some help. Perhaps it would be better suited to some heavy helicopters and planes. I will let you be the judge.
Coming up with original names for military vehicles
Military vehicles tend to be heavy, ass-kicking machines. You don't want to name it something weak sounding. These vehicles are meant to be beasts that burst through defenses and lead troops to victory. Aggressive sounding words filled with iron and steel are what you want. For this tool, I have put effort into using lots of words that make symbolize strength and power. I am quite happy with the names that this name generator comes up with. If anyone knows of any awesome vehicle names they have seen used in the army, please let me know and I can use this information to improve this tool to make the suggestions even more awesome and badass.