RELATED QUESIONS
Below you will find some related questions that people have asked related to this keyword.
View All Gaming Questions & Answers
FRAME RATE POSTS Ever since we moved into the HD era, there has been a lot of focus on a games resolution and the frame rate. For those who understand what it's all about, deciding which to prioritize is a delicate balance. In...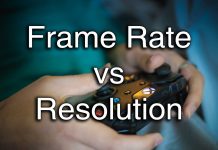 Resolution vs frame rate is a touchy debate that can go one way or the other depending on the game that is being referenced. When faced with deciding one over the other, it can be difficult to decide as having...