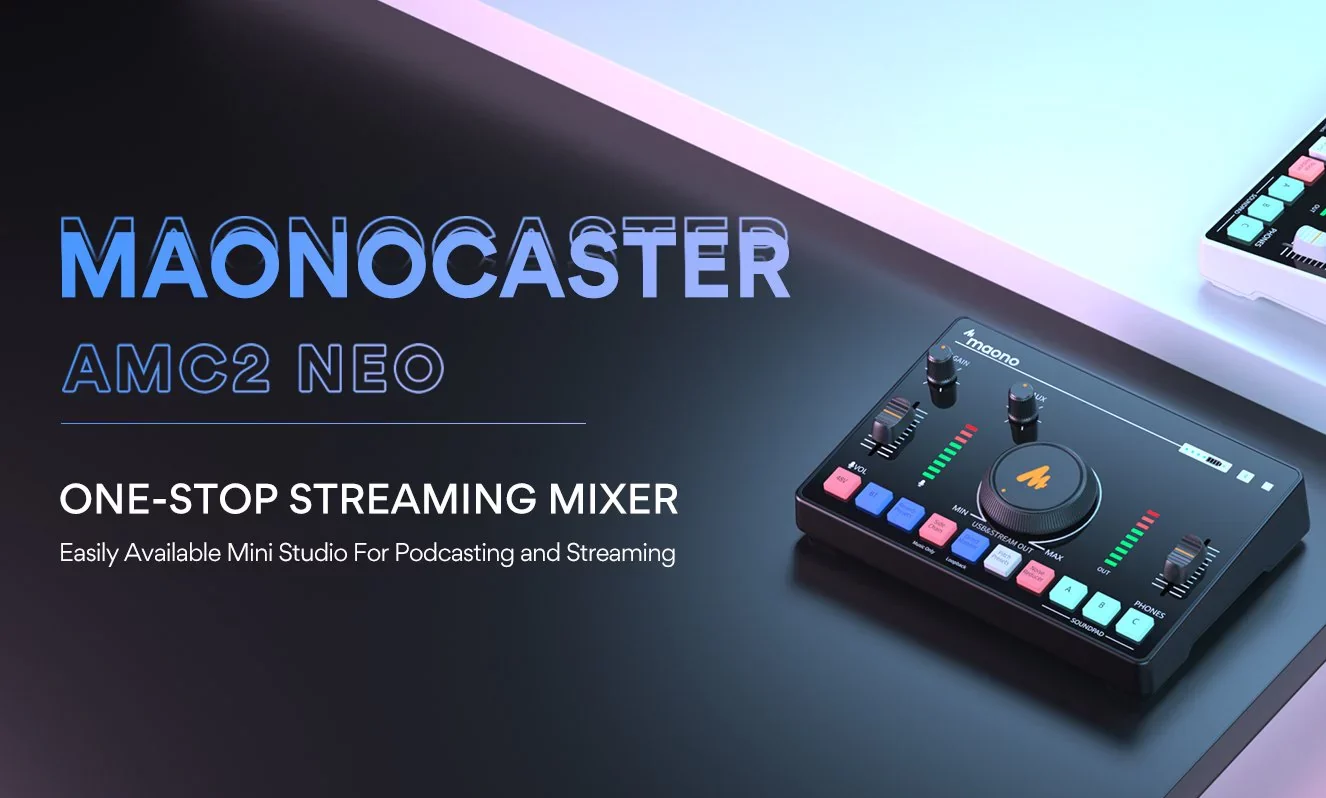 The podcasting and streaming worlds have grown exponentially, and in such a competitive space, the importance of quality audio equipment cannot be overstated. Nothing will turn listeners off faster than distortion from a cheap mic on the earphones that came with a smartphone. Maono has created some exceptional audio recording equipment that offers affordable gear with exceptional quality for the price range. For those looking to take their streaming to the next level, you will want to invest in a mixing desk. Enter the Maonocaster AMC2 Neo, a mixing desk that truly delivers exceptional audio quality for creators at all levels.
From my personal experience with the AMC2 Neo, one of its standout features is the battery power. A full charge guarantees a whopping 7 hours of working time. This feature is a game-changer, especially when you find yourself wanting to podcast on-the-go or in locations where power outlets are scarce. The built-in 1500mAh battery ensures your live streams remain uninterrupted, and for those times when you might need to power up your Android device, there's an additional USB-C port for that.
The design of the AMC2 Neo is both sleek and user-friendly. The controls are intuitive, and neatly laid out. The range of options available makes it an ideal choice for both beginners and seasoned creators. Combined with the battery power, it can't be overstated just how convenient this desk is to use on the go or in tight spaces. You can get by with minimal cables and stream on the go without having to spend a lot of time setting up. Connect your mic, Bluetooth your phone to the desk for some background audio and you are good to go!
For those who love adding a touch of fun to their content, the AMC2 Neo comes packed with six preset reverb scenes and four voice changers. These provide an edge to your content, making it unique and adding an element of flair that audiences will appreciate. Having tested this using the Maono PD200x XLR Microphone, there is definitely a bit of fun to be had with your audience if you decide to make use of these features.
A highlight for me was the array of input and output options. Whether you're using phones, computers, tablets, or cameras, the Maonocaster AMC2 Neo ensures compatibility is never an issue. Furthermore, the support for 48V phantom audio, separate controls for stream audio and headphone audio, and inputs for music and aux sounds, elevate this mixer to a superior level. As a solo podcaster, the ability to infuse ambient background music into my content directly from the desk was particularly valuable.
The Maonocaster AMc2 Neo is a solid investment for anyone serious about delivering top-tier audio content. It stands out not only in terms of design and functionality but also in the quality of the sound it produces. It can be purchased from many online retailers or you can buy the Maonocaster AMC2 directly from the Maono website.
THE VERDICT
The Maonocaster AMc2 Neo is a stellar choice for podcasters and streamers, offering a plethora of features, from impressive battery life to intuitive controls. Its compatibility with various devices and its ability to produce exceptional sound quality makes it a must-have for audio enthusiasts.