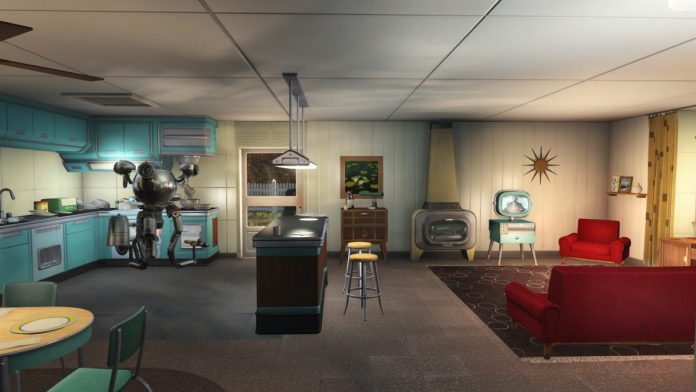 Like I do for many game franchises I enjoy, I intentionally ignore all media on the build-up to the games release so I can enjoy everything without spoilers. The pre-war scenes in Fallout 4 were one of these things that I got to unexpectedly enjoy. In fact, I think I enjoyed this small little scene a lot more than I would have thought had I have been told in advance to expect it. There wasn't much to this scene, but it was really interesting to be thrown back to such an unusual retro-futuristic take on the world. This retro-futurism is the reason I am so keen on the Fallout franchise. After sinking a large number of hours into the game I can't help but wish there was a little more pre-war content.
It might seem like a weird request to want this from a game that has always been built upon the gritty post-apocalyptic wasteland, but that 5 minutes at the start of Fallout 4 really wet my appetite for more. The main obstacle here is to find something interesting to make it worthwhile. A retro flashback similar to what we got with Bioshock Infinite when they returned to the rapture has its merits. It would be a large undertaking for the development team, but it would be such a reward to those who are fans of the game's lore and want to dig a little deeper into pre-war America.
In terms of fitting it into the existing Fallout 4 story, it is quite unlikely it could be done in any interesting ways. DLC could expand it, but at the end of the day, the story your main character goes through in Fallout 4 leaves little reason to go back to the past. He/She is not made out to have an interesting past. Flashbacks to the past would need to be something that is carefully planned and worked into the main game. Perhaps some flashbacks where you get to make that trip to the beach, going to work at the nearby Nuka Cola factory, a visit to a nearby bar or even some of the weirder stuff such as aliens. It may not be worthy of a game on its own, but worked into the main story in the form of flashbacks would be a lot of fun. Even some DLC where you pay a soldier at Area 51 has the potential to be weirdly awesome.
Now that we have the final piece of DLC for Fallout 4, we now know that there is no chance we will ever get some new content that has any real throwbacks to the past. As much as I really loved Fallout 4 and all of the DLC that was released for it, I still think that Fallout 4 should have had some more pre-war content.