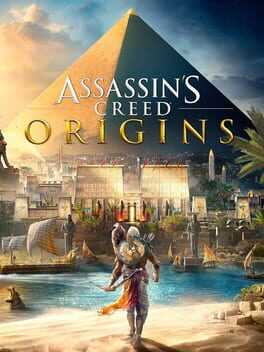 For the last four years, the team behind Assassin's Creed IV Black Flag has been crafting a new beginning for the Assassin's Creed franchise.
Set in Ancient Egypt, players will journey to the most mysterious place in history, during a crucial period that will shape the world and give rise to the Assassin's Brotherhood. Plunged into a living, systemic and majestic open world, players are going to discover vibrant ecosystems, made of diverse and exotic landscapes that will provide them with infinite opportunities of pure exploration, adventures and challenges.
Powered by a new fight philosophy, Assassin's Creed Originsembraces a brand new RPG direction where players level up, loot, and choose abilities to shape and customize their very own skilled Assassin as they grow in power and expertise while exploring the entire country of Ancient Egypt.
Stuck and need some help? Check out some of the questions the community have asked relating to this game. If none of these answer your problem or you want to get some tips when it comes to a particular level, feel free to submit a question of your own.
How do you pet a cat in Assassin's Creed Origins?
I have found a cat and he follows me around the place. I saw in some gameplay videos before the game released that It is possible to pet cats. How do you do it? I've tried pressing triangle to interact with them when the cat is near me but it doesn't do anything. Do I need to do something else to the cat before I can pet it? At this rate I'll have an arrow in him before I figure it out.