RELATED QUESIONS
Below you will find some related questions that people have asked related to this keyword.
View All Gaming Questions & Answers
MARIO POSTS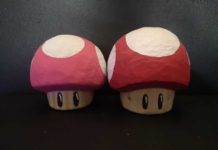 Having built a wooden deck in the back garden, I found myself with 3 or 4 large wooden posts leftover with nothing to use them on. I do not currently own a lathe to do any fancy woodturning with, so...
Koopas are an enemy from the Mario franchise why are they showing up as enemies in The legend of Zelda Links Awakening?