PC POSTS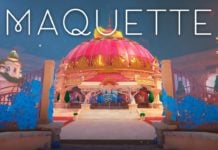 Maquette is a first-person recursive puzzle game that takes you into a world where every building, plant, and object are simultaneously tiny and staggeringly huge. By simply changing the perspective at which you view the object, you can navigate your...
How do you reach the final floating tower that is missing a bridge but has a switch over at the other side in the spiral level of maquette?
How do you get to the ringing bell at the top of the church in Maquette?
How are you meant to solve the puzzle with the squid key to unlock the elevator door at the asylum?
What are the correct answers to the questions the doctor asks you while you are doing the lie detector test at the asylum?
Where do you find metal dowels to repair the broken table at the bar?
I have lost my winch at the camp in Arizona Sunshine and can no longer find it.
Does astroneer have local multiplayer that allows multiple players to play together on the same machine on the same planet just like it was an online multiplayer game?