 From the perilous battlefields of the fourth-grade playground, a young hero will rise, destined to be South Park's savior. From the creators of South Park, Trey Parker and Matt Stone, comes an epic quest to become… cool. Introducing South Park™: The Stick of Truth™.
For a thousand years, the battle has been waged. The sole reason humans and elves are locked in a neverending war: The Stick of Truth. But the tides of war are soon to change as word of a new kid spreads throughout the land, his coming fortold by the stars. As the moving vans of prophecy drive away, your adventure begins.
Arm yourself with weapons of legend to defeat underpants gnomes, hippies and other forces of evil. Discover the lost Stick of Truth and earn your place at the side of Stan, Kyle, Cartman and Kenny as their new friend. Succeed, and you shall be South Park's savior, cementing your social status in South Park Elementary. Fail, and you will forever be known… as a loser.
Key Features
The Definitive South Park Experience

Written and voiced by Trey Parker and Matt Stone, The Stick of Truth brings their unique brand of humor to video gaming.

An Epic Quest To Become... Cool

Earn your place alongside Stan, Kyle, Cartman and Kenny, and join them in a hysterical adventure to save South Park.

Friends With Benefits

Recruit classic South Park characters to your cause.

Intense Combat

Arm yourself to the teeth with an arsenal of magical weapons and mystical armor.

South Park Customization

Insert yourself into South Park with something like a billion character, clothing, and weapon combinations.
REVIEW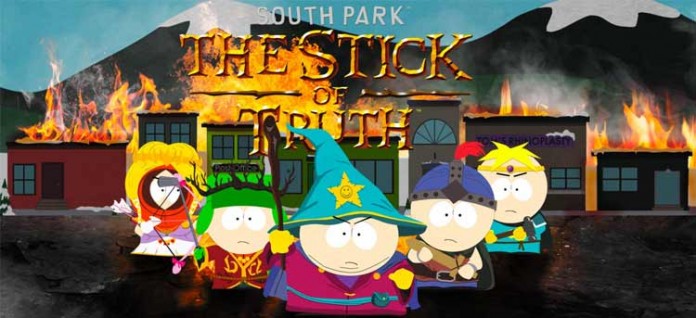 The decisions on whether to buy this game is based on one thing. Do you like the TV show? If you love South Park then you Will love this game. The game has everything that people love about the TV show and doesn't deviate from the shows successful formula at all. If you hate the TV show then you will hate this game, it's as simple as that! It takes about 15 hours to complete the main quest and there are plenty of side quests that give you additional play time. This might be short when compared to other RPGs, but I don't think they could have done a better job. The writers threw everything they had at this game and the resulting product is one of the funniest games I have ever played and one of the funniest south park stories too. The Stick of Truth is a must have for all south park fans!
8/10
FAQ
Stuck and need some help? Check out some of the questions the community have asked relating to this game. If none of these answer your problem or you want to get some tips when it comes to a particular level, feel free to submit a question of your own.