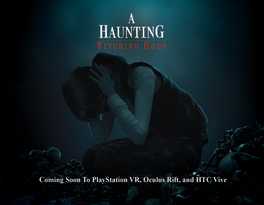 A Haunting : Witching Hour is a storytelling Virtual Reality game of dark horror and desperate survival. An immersive experience finds players discovering – and taking part in – a rich story that explores the dark corners of human nature. It will unfold in episodes, giving players the opportunity to continue to unravel a complex mystery through downloadable content that picks up where the previous episode's cliffhanger left off.
It is scheduled for release on both PC and console platforms.
Episode One follows an indie film crew who travels to Shady Hollow to produce a documentary on John Beaumont and the disappearance of the 2 miners. In 1975 John was accused and convicted of murdering two coal miners. During the investigation, John claimed it was the Hollow Creek Witch responsible for the disappearance of the miners.
Players take on the role of Eddie, a character with a checkered past who has psychic abilities that allows him to see things from the past while touching items found throughout the game. The game will start off with Eddie being found along a lonely road by police. The police bring Eddie in for questioning in regards to the whereabouts of the remaining film makers. As Eddie tells his story, players are taken to that point in the story and play through what happened at that point.