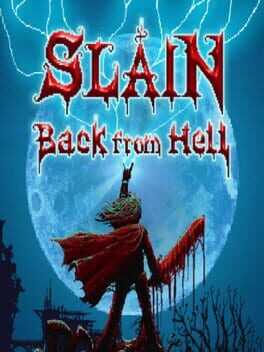 A heavy metal inspired combat with puzzle elements and gore galore. Stunning visuals and true old school gameplay with classic arcade combat accompanied by the most metal soundtrack you've ever heard. Prepare to be Slain! Will you accept the challenge...
Players control Bathoryn, a hero in a Gothic world, seeking to liberate seven great towers from 7 deadly overlords.
Bathoryn must battle his way through a doomed land packed with gruesome pixel art foes before ascending (or sometimes descending) each tower, defeating puzzles, traps and monsters alike. At the heart of each tower, he must confront a mighty overlord. Defeat it and Bathoryn's quest continues. Fail, and you'll die gruesomely – mauled by werewolves, disintegrated by floating monstrosities, squashed by great weights or torn apart by hidden blades. And you will fail…
FAQ
Stuck and need some help? Check out some of the questions the community have asked relating to this game. If none of these answer your problem or you want to get some tips when it comes to a particular level, feel free to submit a question of your own.