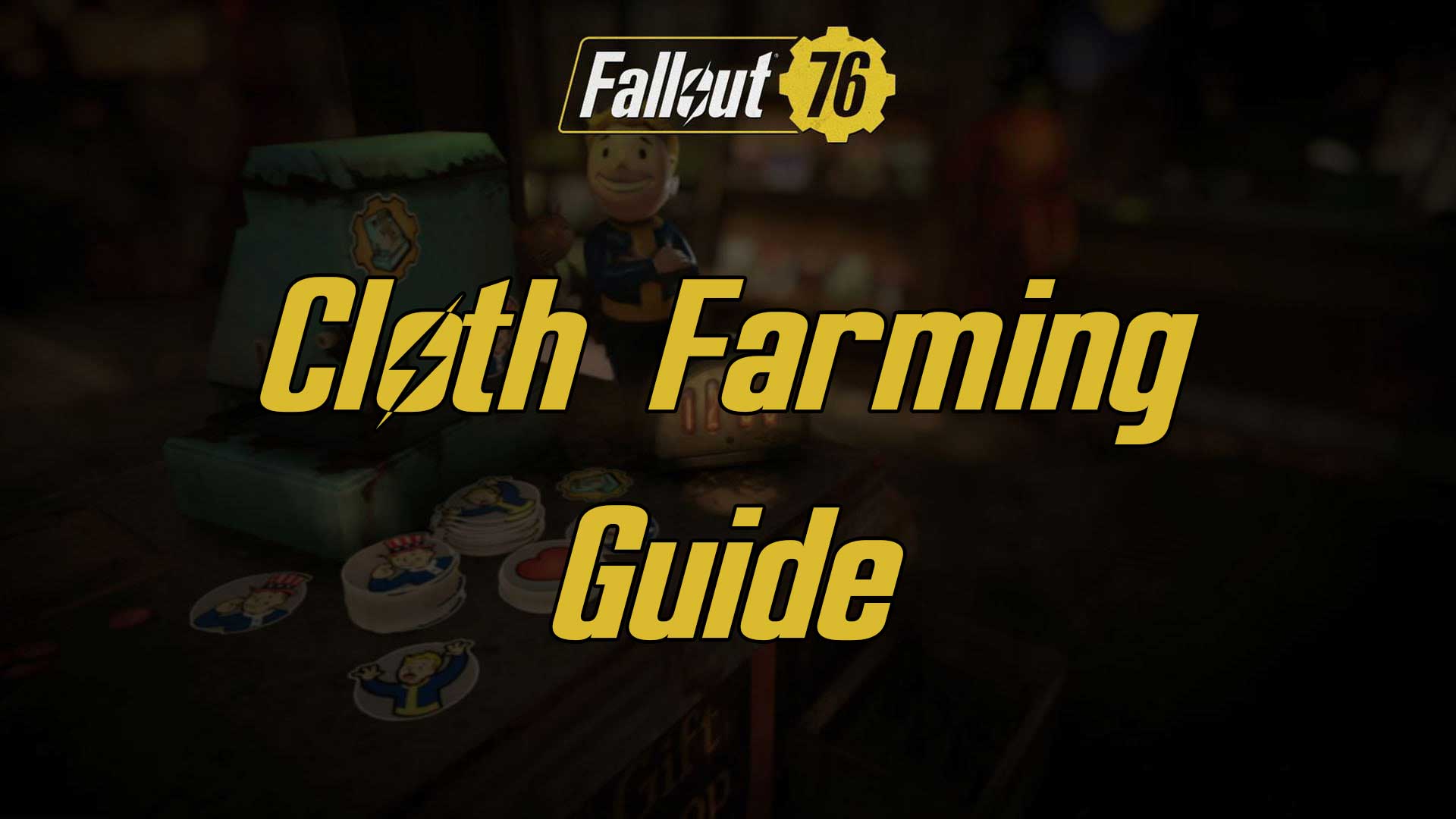 Cloth is a material that is so common that you are likely to overlook the need to gather it during the early stages of the game. It can be used for creating various clothing and some furniture. Since most of us want iron gear and power armour, the demand for this might seem small. This is where you are wrong! 
Gunpowder is something you are going to be spending a lot of time crafting at some point or other. You will get 15 units of it by combining cloth and acid at a chemistry station. And now you understand the importance of cloth in Fallout 76. Chances are you came here fro ma google search and need me to shut up and get to the point!
Best Places to Farm Cloth in Fallout 76
Generally, the best places to farm cloth in Fallout 76 are locations that contain lots of pre-war money or books. Since these items often appear in large quantities together, it is super easy to farm these items and scrap them at a workbench to obtain a huge amount of cloth.
Bookstore in Northeast Summersville 
This is hands down the best and most easy method to obtain a crazy amount of cloth in Fallout 76 without having to put in any effort at all. There are over 120 burned books that you can loot in this store. All of these books can be broken down and converted into cloth. Check out the video guide below to help you find the exact location of the book store and where to find all of the books. 
Collision Course Event
This is an event that triggers around the back of the Morgantown airport. Even if you do not take advantage of the glitch, you will get quite a lot of pre war money from the supply drops here. However, it is possible to server hop in and out to find yourself with an unlimited supply of pre war money to scrap in order to generate a lot of cloth. 
Check out the video below for a detailed guide on how to take advantage of this glitch to farm an infinite amount of pre war money and as a result, cloth in Fallout 76.
Junk Items that Contain Cloth
Cloth is an incredibly common resource. Along with coming from all of the common items you might expect it to, cloth can also be obtained from most paper items you find such as pre war money and even books. This is why burned books are one of the best ways to stock up on a huge amount of cloth, super easily. 
Bag of chlorine

Baseball base

Black napkin

Box of San Francisco Sunlights

Broken doll w/o left arm

Broken doll w/o right arm

Broken doll w/o right leg

Bubblegum bear

Bulk cloth

Bumblebear

Burger tray

Burnt book

Burnt fashion magazine

Burnt Grognak comic

Burnt lifestyle magazine

Burnt Manta-Man comic

Burnt Mistress of Mystery comic

Burnt textbook

Burnt trade magazine

Burnt Unstoppables comic

Candy fan Mr. Fuzzy

Charleston Herald

Checker tie Mr. Fuzzy

Cigar

Cigar box

Cigarette

Cigarette carton

Comfy pillow

Comrade Chubs

Cotton yarn

Detective Case File

Dirty old teddy bear

Dirty pillow

Dishrag

Doll

Doll head

Doll right arm

Duct tape

Emerald tie Mr. Fuzzy

Feather duster

Folder

Gold tie Mr. Fuzzy

Home plate

Hot dog tray

Imported Chinese panda

Jangles the Moon Monkey

Jumbo candy fan Mr. Fuzzy

Jumbo checker tie Mr. Fuzzy

Jumbo gold tie Mr. Fuzzy

Jumbo silver tie Mr. Fuzzy

Late edition newspaper

Lil' Ginger Snuggles

Lit cigar

Lit cigarette

Lit stogie

Mop

Mr. Fuzzy

Mysterious fur

Napkin

Nuka-Cola cup

Nuka-Cola cup and straw

Orange napkin

Orange tie Mr. Fuzzy

Oven mitt

Pack of cigarettes

Pack of duct tape

Paintbrush

Pillow

Pizza tray

Pre-War money

Preserved cigarette pack

Pristine teddy bear

Purple tie Mr. Fuzzy

Quantum bear

Radbear

Raw cloth

Red tie Mr. Fuzzy

Rolled charleston herald

Ruby tie Mr. Fuzzy

Sealed Charleston Herald

Silver tie Mr. Fuzzy

Souvenir sloth toy

Souvenir teddy bear

Spooky time Mr. Fuzzy

Stogie

Stuffed grizzly

Stuffed polar bear

Teddy bear

Teddy Fear

Toilet paper

Trifold American flag

Undamaged American flag

Undamaged cigarettes

Unscorched oven mitt