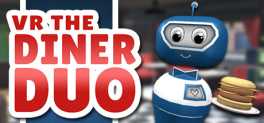 Your goal as a chef is to cook the food your customers want, in a very limited amount of time. You snooze – you lose!
Multiplayer mode is extremely fun! Let your partner, kid or sibling take the role as a waiter and take orders, fetch drinks and pie to your always hungry customers to keep them satisfied. The more you communicate – the better!
The chef is played in the VR-headset, while in multiplayer mode the waiter is played on the same computer with the keyboard or regular control.
You are able to customize your character, both chef and waiter. The more you play, the more customization options you will unlock. Rewards are waiting for the top chefs!