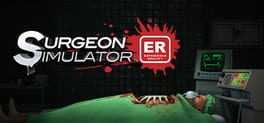 Forget everything you know about backstreet surgery. The moment you have been waiting for your whole life is here! Surgeon Simulator: Experience Reality is taking the ER to VR, where you can perform all of Bob's favourite procedures with your OWN TWO HANDS in brand new surgery environments designed from the ground up for VR!
If you've ever actually wanted to know what it feels like to delicately remove teeth from a patient using nothing but a subtle claw hammer, or perform a touch of eye surgery in Zero-G, now is your chance (without all the added hassle of flashing blue lights, plane tickets, rushed flights and Interpol). Featuring all of the surgeries and twisted humour of the original favourite, this is one surgical experience you will never want to forget!
Be transported into some of the most unlikely and possibly unsanitary surgeries possible with a totally new control system – you can no longer blame the keyboard or gamepad this time – this is on YOU, Dr Burke.
Remember, no matter what happens and how things work out – Bob loves you!
PLAY AREA INFORMATION
Position: Standing
Play Area Size: Large
Chance of Injury: Low
You will find this game very difficult to play if you are not standing up. You will need your full height to crouch down and reach up. Surgery instruments will often be high up or low down, so you will need to be standing to reach this stuff. You will need a large play area for this game. Surgical instruments are often located quite far away from you. You will need to take a step or 2 forward in order to be able to reach out and grab them. You will need to have at least 2 arms length free around you to avoid crashing into anything. If you are really stuck for space you can move back. There is never any need to look behind you, so you can take the space from the back and just make sure the area in front of you is clear and has lots of space.
MOTION SICKNESS
Sickness Intensity:
1
You will remain stationary throughout the surgery. Nothing at all will move that you do not move using your hands. There is very little chance of motion sickness being an issue with this game.