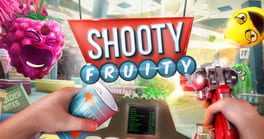 Only possible with a VR headset and motion control, Shooty Fruity combines VR sharp shooting with immersive job simulation, in an over-the-top multi-tasking game that's guarantees you'll never look at your local supermarket in the same way again. Scan! Shoot! Repeat!
PLAY AREA INFORMATION
Position: Seated or Standing
Play Area Size: Medium
Chance of Injury: Low
Shooty Fruity is best played while standing. You regularly need to reach far to the left or right to grab items and pull them back into the center of the play area. An injury is unlikely due to the overall lack of abrupt movement required. So long as you have a play area where your arm reach is clear, you should not hit off anything.
MOTION SICKNESS
Sickness Intensity:
1
The odds of anyone experiencing motion sickness are slim to none. All game modes place you in a stationary position. All movement in the game is based around your own physical movements while standing in the same position.