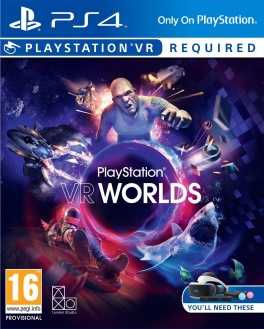 Step into PlayStation VR Worlds and journey through five unique and exclusive PlayStation®VR experiences.
Go nose to nose with a great white shark, crawl through decaying space hulks, weave between oncoming traffic, survive a futuristic sport or take part in a gritty London gangster thriller.
PLAY AREA INFORMATION
Position: Seated or Standing
Play Area Size: Medium
Chance of Injury: Average
Depending on the game you are playing, you may or may not need to be standing. Some games like the scuba tanks require no movement at all. Games like danger ball will require a bit more movement. Since none of the games require you to use your arms, the amount of space needed isn't as high as other games. You will need to move your head quite a lot which is why you will need to set a medium size play area so that you do not bash your head off anything.
MOTION SICKNESS
Sickness Intensity:
4
Most of the games in this bundle are quite easy on the stomach. There is one game in particular called Luge that is going to take some getting used to. You are lying down on a board and use your head to steer the board as it rockets down a steep hill. As you go over jumps and fly by cars you will eventually feel a little sick. For some this might be a reason to turn the game off as it will turn your stomach.