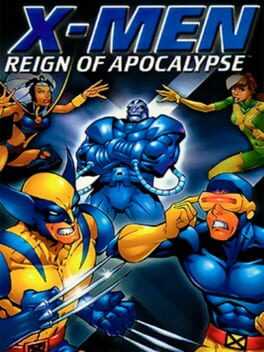 You and your fellow X-Men are lost in an alternate reality, only to discover that supervillain Apocalypse reigns supreme. Not only do you find yourself at the mercy of his minions, but also the line between foe and friend is dangerously blurred in this mirror universe. Your only hope is to fight your way through numerous enemies and threats until you reach the Warp Gate and return home. Will you survive long enough to make it there?
X-Men: Reign of Apocalypse is the first X-Men game release for the Game Boy Advance platform. It offers side-scrolling gameplay combined with fighting-game action. Best of all, you become your favorite X-Men character--Wolverine, Cyclops, Storm, or Rogue--and do battle using the character's signature moves.
While in story mode, you'll battle Apocalypse's minions as you try to return to your own dimension. In versus mode, you can compete head-to-head in a deathmatch or join forces to battle enemy hordes, unlock X-Men friends, and capture the flag.
Reign of Apocalypse's fighting system lets you score experience points using your brute strength and special mutant powers. At the end of each level, you can use these points to increase your damage potential, agility, or mutant power to unleash the ultimate X-Man!
FAQ
Stuck and need some help? Check out some of the questions the community have asked relating to this game. If none of these answer your problem or you want to get some tips when it comes to a particular level, feel free to submit a question of your own.