 Requires Oculus Rift DK1 / DK2 headset.
The checkered flag is about to drop on a new Virtual Reality racing game!
Get in the drivers' seat and experience racing like never before.
FAQ
Stuck and need some help? Check out some of the questions the community have asked relating to this game. If none of these answer your problem or you want to get some tips when it comes to a particular level, feel free to submit a question of your own.
View All Questions
RELATED POSTS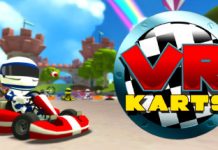 Having spent the past few months dealing with moving home, my PSVR has been sealed away in it's cardboard tomb, getting no attention at all. This weekend was the first time I have gotten to play it in a while....