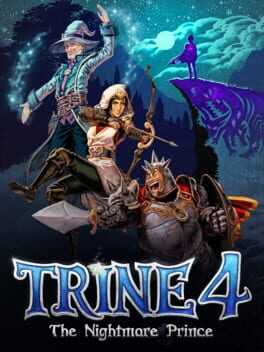 Featuring an all-new story that reunites Amadeus, Pontius, and Zoya, Trine 4: The Nightmare Prince returns to the magic of 2.5D with the puzzle-platforming gameplay that defined a genre in Trine 1 and 2. Play as the three iconic heroes in the most extensive Trine adventure yet, complete with stunning new environments and dynamic, physics-based puzzles that fans have grown to know and love.
After years apart, the Astral Academy has requested help from the three heroes to find Prince Selius, whose intensely dark nightmares have begun to slip into reality and wreak havoc on the waking world. Encounter more epic boss fights than ever before, solve fascinating puzzles, unlock new skills, explore lush, vibrant landscapes, and experience a hauntingly beautiful new soundtrack by the composer of Trine 1-3. Additionally, and for the first time ever, Trine adds four-player co-op to its feature list.
FAQ
Stuck and need some help? Check out some of the questions the community have asked relating to this game. If none of these answer your problem or you want to get some tips when it comes to a particular level, feel free to submit a question of your own.