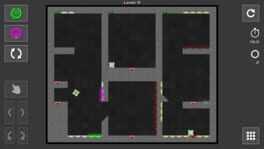 Portal Touch is a logical physics puzzle where you can create portals and use different mechanics to get the star cube to the finish. Sounds easy? Well, give it a try and you'll see.
Try to complete individual levels as quickly as possible and with few as possible portals. Can your brain think logically enough to complete all the levels and earn all the stars?
Features:
◆ Realistic physics
◆ Cubes
◆ Portals
◆ Mechanics that change the behavior of the environment
◆ 20 levels with more to come
Mechanics:
◆ Red bases that change the behavior of mechanics and the environment
◆ Projectiles that change the behavior of the environment
◆ Energy balls
◆ Object destroyers
◆ Bouncy walls
◆ Light bridges
Soon to come:
◆ Lasers
◆ Excursion beams
◆ Gravity alteration
◆ and more
Have fun and enjoy!
FAQ
Stuck and need some help? Check out some of the questions the community have asked relating to this game. If none of these answer your problem or you want to get some tips when it comes to a particular level, feel free to submit a question of your own.