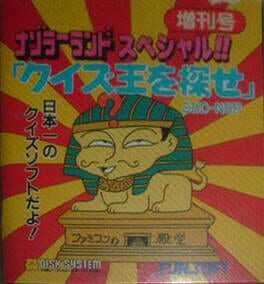 A spin-off of Sunsoft's Nazoler Land mini-game collections for the Famicom Disk System, this special version is a trivia game. Like the other Nazoler Land games, it was never released outside of Japan.
Nazoler Land Special: Quiz ou wo Ikuse (or "Search for the Quiz Masters") is a trivia game in which the player must answer trivia questions from eight different opponents across Japan in order to win the game.
Because the game was never released outside of Japan, it needs a considerable amount of Japanese knowledge to play, both to understand the questions and to be able to answer them.
It is not part of the core Nazoler Land series of games, which are all mini-game compilations.
FAQ
Stuck and need some help? Check out some of the questions the community have asked relating to this game. If none of these answer your problem or you want to get some tips when it comes to a particular level, feel free to submit a question of your own.