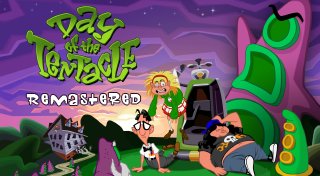 1
1
3
53
52

Welcome to the Day of the Tentacle Remastered trophy guide for the PlayStation 4. This game has a super easy trophy list that can be platinumed in about 5 hours if you take it relatively slowly. This is a really enjoyable game, so I would suggest you take your time and enjoy it. Trophies are missable in a weird kinda way, but only due to the fact that the final, endgame chapter takes you away from the place where you can obtain most of the trophies. I will mark any proper missable ones in the trophy guide below. For those that are not marked, they are likely missable only due to the game ending and there not being a chapter select.

Author : young_hastings
Time To 100% : 5 Hours
Difficulty : 1
Online Trophies : 0/58
Offline Trophies : 58/58
Missable Trophies : 6
Glitched Trophies : 0
Num Playthroughs : 1

Platinum Walkthrough

[toggle]

You can get the platinum trophy in Day of the Tentacle pretty quickly. In fact, with a guide you can get it in under 2 hours. I will include the video guide below for those who are looking to obtain the platinum for this game as fast as possible. If this is your first time playing, I would suggest you try and do it without a guide. Most of the trophy descriptions tell you how to get the trophy pretty easily. Since they are hidden by default, revealing the content might be enough to help you figure it out and if so, try play the game this way. This is a really good game and the puzzles are not too hard. You are better off spending some time to appreciate this game. Even without a guide, you can likely beat the game in around 5 hours and get yourself the platinum.

A lot of the trophies in the game are related to puzzles that are required to complete in order to progress. They are not technically story related, but you cant beat the game without completing them. Ill put a hint for each of these so you can attempt to solve the puzzle yourself first and if you get stuck you can use hint in order to know what you need to do.

When you trigger the final chapter you end up leaving the main area of the game and you can no longer access the things needed to unlock the trophies. I would say that most people will get the vast amount of trophies automatically from playing the game normally. There are some missable trophies that are very easy to miss. Take note of the following trophies as if you miss them you will need to start the game again. In the event that you do make mistakes, make frequent game saves. This way if you do end up making a mistake and missing a trophy, you can easily reload this game save and get back to the point where you unlock the trophy much faster than having to replay the entire game.

Mental Patience - Do not skip any cutscenes
That Should Have Worked - Make sure you try to flush the battery with Hogie before doing the correct thing with it.
Music Appreciation Award - Most annoying song ever! Make sure you turn on the stereo first chance you get and leave it on for the duration of the game.
Rap Sheet: Forger - If you get the professor to sign the contract, you will no longer be able to forge it. Make sure you try to forge this before getting it signed.
Can't Win and Chew Gum at the Same Time - If you give the teeth to George Washington first, you won't be able to do this.
Alas, Our Lazy Speechwriters Didn't Cover This - Go outside and talk with them as soon as you throw the blanket over the top of the chimney, making everyone run outside.