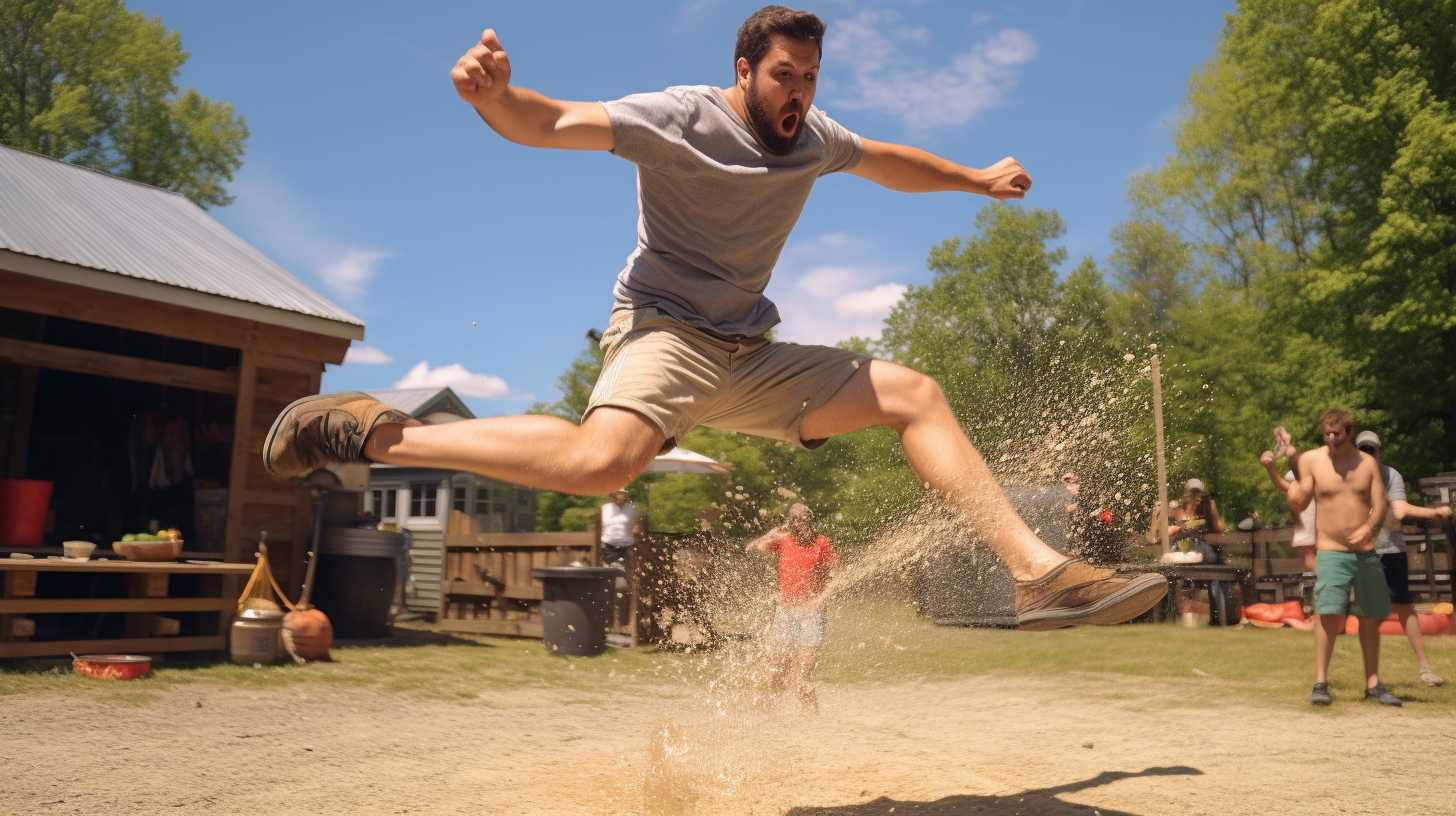 Welcome to Thirsty Horseshoes Hijinks, where the light-hearted challenge of horseshoes combines with the camaraderie of a drinking game for a matchless, merry experience. Eager to give your traditional horseshoes contest a twist of humor and entertainment? Gather your team of spirited friends, prime up for a spectacular showdown, and stock up on your preferred beverages for an enthralling round of this Horseshoes drinking game.
Setting Up the Game
Preparing for Thirsty Horseshoes Hijinks comprises:
A spacious outdoor area that can accommodate the horseshoe pitches and a cheery bunch of people.
An assortment of drinks to fuel the fun, encompassing both alcoholic and non-alcoholic options.
Horseshoes Drinking Game Rules
Crank up the mirth with these ingenious horseshoes-drinking rules:
Lead-off Toast: Kick off the game by raising a toast with your fellow participants.
Ringer Reverie: Score a ringer, and watch as all others take a hearty sip in honor of your triumph.
Leaner, Drinker: Hurl a leaner and choose your next "opponent" — they'll have to finish their drink before resuming play.
Close Shave: Whenever a horseshoe narrowly misses the stake (a pre-agreed distance), its hurler takes a sip.
Horseshoe Hollow: If your horseshoe lands upside down, forming an impromptu hollow, you must drink.
Custom Rules for Everlasting Laughs
Incorporate these custom rules to up the ante on laughter:
Partner Pranks: Miss 3 throws in a row, and you must swap drinks with your partner.
Target Tally: Keep track of points. Every 5 points, the scorers decide who drinks.
Back-to-Back Bonanza: Score back-to-back ringers, and everyone must drink twice in your honor.
The Great Chase: Start a relay where participants race while balancing a horseshoe on their heads. Any dropped horseshoe incurs a penalty sip.
Losing Ground: Players who have the losing horseshoes in a round drink!
Playing Thirsty Horseshoes Hijinks Responsibly
Safety First: Ensure ample space to prevent accidental injury during gameplay. Keep aware of your surroundings and be mindful of other players throwing horseshoes.
Rule Adaptability: Modify the rules according to participants' comfort levels and drinking preferences.
Essential Hydration: Balance your drinking with proper water intake and provide non-alcoholic beverage options for those who prefer them.
Embrace the whirlwind of joy and excitement that Thirsty Horseshoes Hijinks promises, flawlessly fusing the friendly competition of a horseshoes match with the lively vibes of a drinking game. The result: an extraordinary evening brimming with laughter. So rally your compatriots, limber up those throwing arms, and prepare to make history with Thirsty Horseshoes Hijinks!