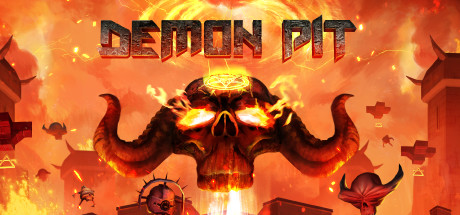 The 1990s produced a very unique style of FPS. Minecraft has brought a resurgence in popularity of 8-bit, but the low res style of 90s shooters has been left untouched. An upcoming arena shooter called Demon Pit is looking like it will explode its way right out of the 90s with a Doom meets Serious Sam style of high paced shooter.
One of the greatest parts of the 8-bit revival is that we get the visual style of games of the 80s, but none of the technical drawbacks. Demon Pit is a modern game, made to look like the classic arena shooters like Quake and Unreal tournament with an added dose of Doom evilness.
High paced FPS games are very uncommon these days. The most recent release of Doom, while significantly faster paced than most other FPS games, doesn't quite have that hectic high speed action we saw in the 90s. Demon Pit is most definitely an exception, just look at the video below.
The #DemonPit demo is now live on #Steam!

Link 👉 https://t.co/BTHJTFOyyq

Blast through the game's first six waves of hell spawn and compete on the leaderboards – grab it now!#Gamedev #indiegames pic.twitter.com/Mz7XsDi3l8

— Demon Pit (@DemonPitGame) September 16, 2019
I've been playing a lot of story based games lately so I think a game like this might be a welcome change. Forget who is who and just blow up everything that moves.