We all want to get the illusive platinum trophy when playing games on the Playstation. Doing this is a hell of a lot easier when you have a trophy guide. This is why we have created an online form that will allow you to submit a trophy guide for any of the trophy lists that are currently published on the website.
Find a game to submit a trophy guide
There are a large number of trophy lists and the list is growing daily. You can find your game in this list or by using the search feature on the page.
Submitting a guide for a trophy list
Once you have found the game you want to submit a trophy guide for, you can click the link to submit a guide. If the game already has a trophy guide then you will not be able to submit another one.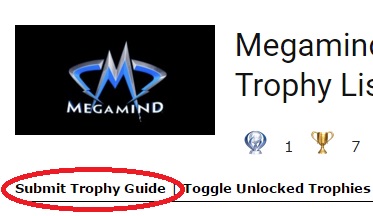 This will display a large form that allows you to input information for each of the trophies that this game contains. Fill in as much information as possible in order to make the list as good as it possibly can be. The input boxes use a text editor called "TinyMCE" this is a powerful text editor. If you are wondering how to do something to make your guide display in a particular way, you should be able to find a large amount of documentation for it. If you have any questions check out our trophy guide submission FAQ.
Track Your Trophy Guide Submission
All guides must be approved before going live on the website. I know this sucks, but if we didn't do this a bot would have already submitted a guide that links to some stupid gambling site. As much as we would love to keep this like an open wiki, the work it would take to keep the spam away would take all our time away from doing the important things that matter. If you submit a trophy guide you can track it from your user profile. This of course means that you must be logged in when you submit the trophy guide (not a requirement to submit a guide). The image below shows the image that you will see in your user profile when you submit a trophy guide. You will receive a notification via email and via the in site notification system when the status changes.
Guide Template
When you are writing a trophy guide it can take a long time to write the entire thing. This is why we have added a template that will let you generate a trophy guide template to use while you are writing the guide. This will let you write down notes for each trophy and once you are ready to submit the guide, all you need to do is copy and paste the content. You can find the link at the top of the page for a trophy guide submission.