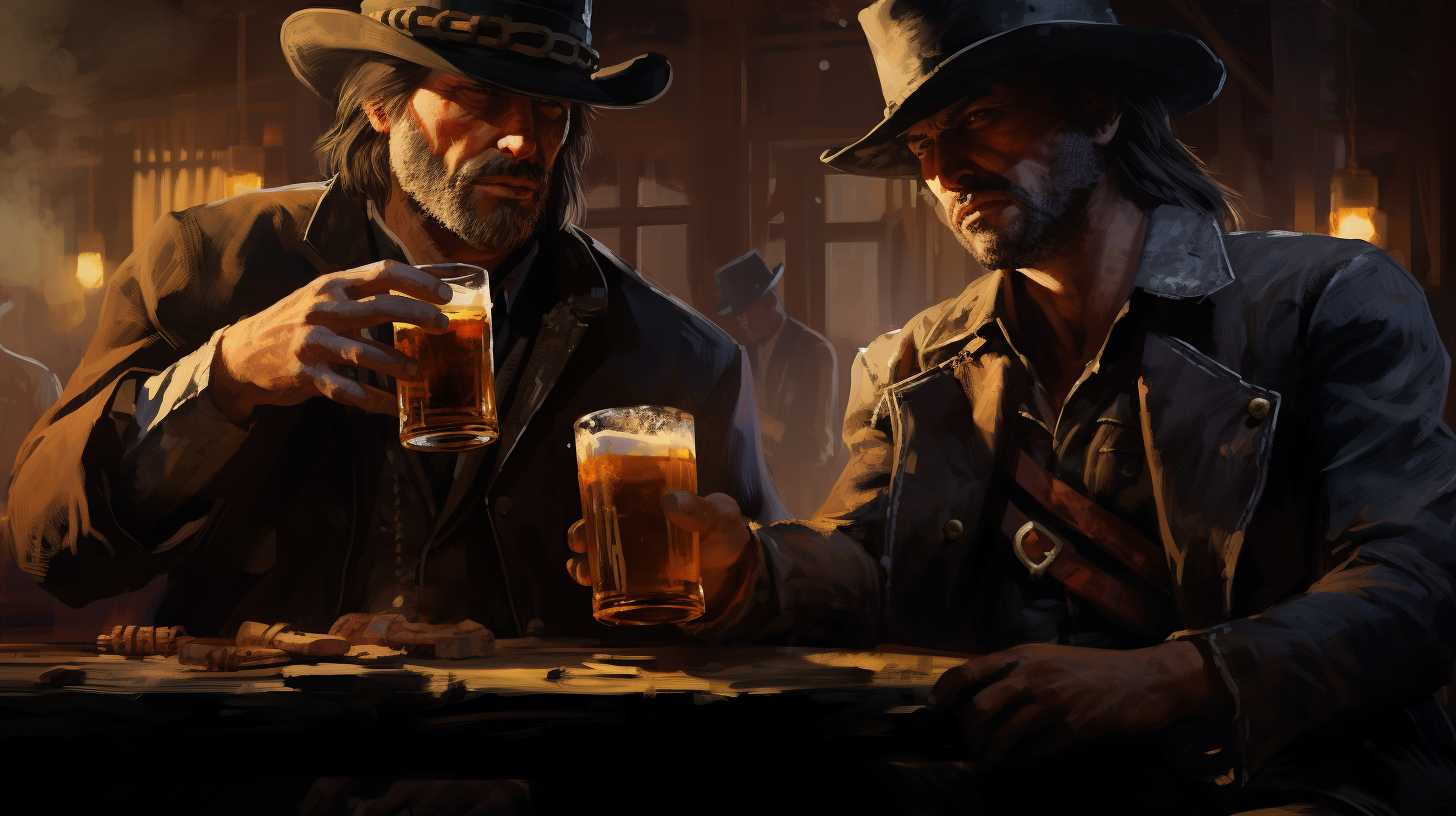 Welcome to Red Dead Redemption-Refreshments, a novel approach to juxtaposing the rustic thrill of Red Dead Redemption with the conviviality of a lively drinking game. Focused on the online, multiplayer domain of the game, are you ready to strategize your next heist while sharing a laugh over a drink with your gang? Assemble your posse, boot up your gaming systems, and stack up your favourite tipples to commence a rollicking ride through this Red Dead Redemption drinking game.
Setting Up the Game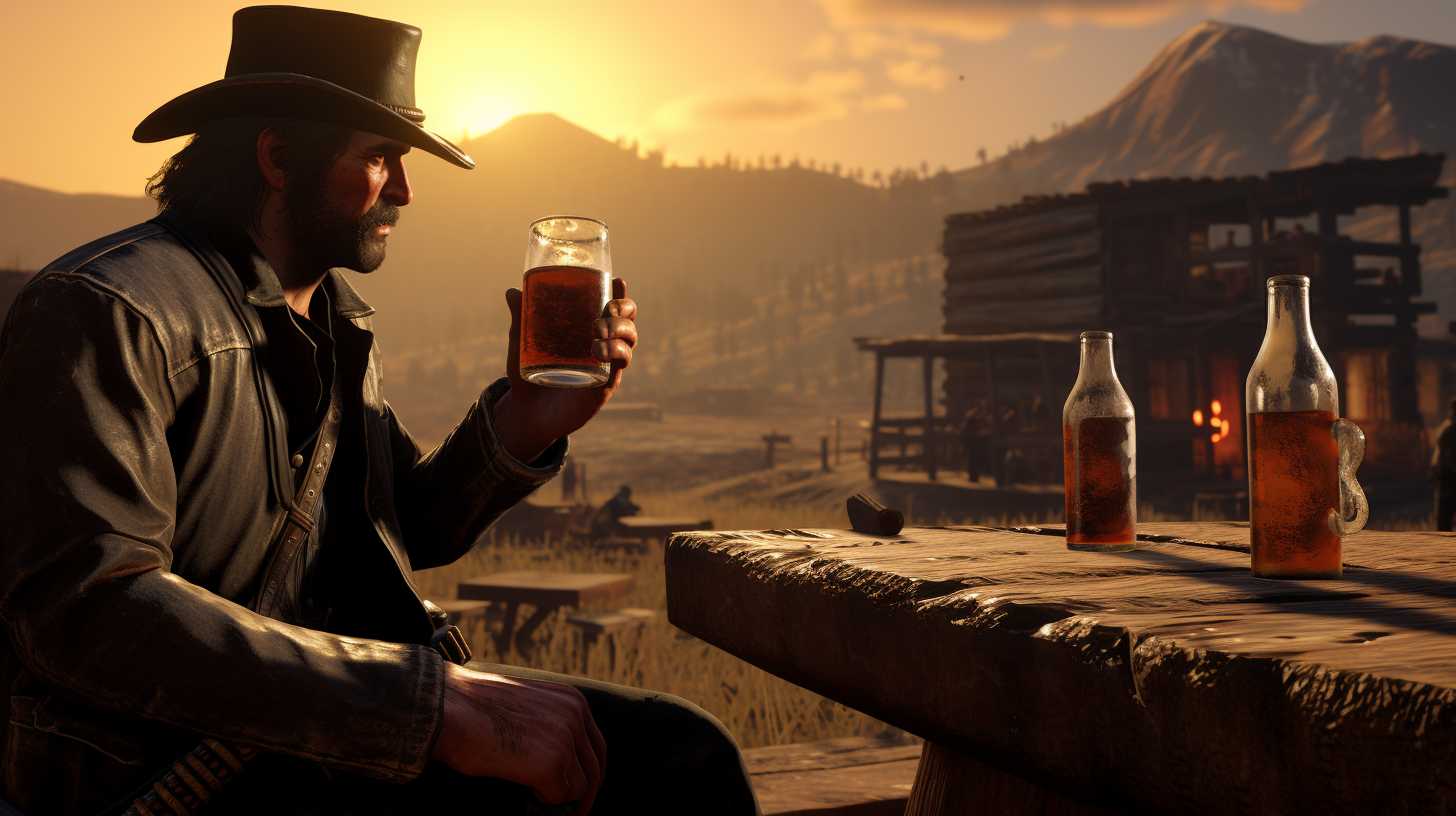 To kickstart your adventures through Red Dead Redemption-Refreshments, make sure you have:
A crew of Red Dead Redemption fans are up for a fun mélange of gaming and social drinking.
A smooth online multiplayer setup offering a seamless Red Dead Redemption experience.
An array of beverages, both alcoholic and non-alcoholic such as ales, ciders, or homemade sarsaparilla to match the Wild West theme.
With your posse, game, and drinks sorted, you're braced for an immersive and exhilarating session of Red Dead Redemption-Refreshments!
Red Dead Redemption Drinking Game Rules
Red Dead Redemption-Refreshments merges the immersive world of Red Dead Redemption Online with sociable drinking prompts. The primary rules include:
Wild West Welcome: On entering the multiplayer world, all players take a welcome sip.
Outlaw Ovation: Every time a player completes a mission, they assign a drink to another member.
Bounty Binge: Successfully capturing or escaping a bounty prompts the player in question to assign drinks.
Heist Hiccup: If a heist is successfully pulled off, every member of the gang takes a celebratory drink.
Gamble Guzzle: Any time a player wins in a poker match or any other in-game gambling, the rest of the players have to drink.
Custom Rules to Liven Up the Game
Raise the stakes with a few personalized rules during your Red Dead Redemption-Refreshments venture:
Rancher's Spiel: Should a player successfully break a wild horse, everyone else in the gang has to drink in recognition of their skill.
Fatal Falls: Every time a player unintentionally falls from a cliff or is thrown off their horse, they have to take a sip.
Animal Antics: Bagged a legendary animal? Assign drinks to other players to celebrate your successful hunt.
Treasure Toast: Unearth a treasure and you have the power to make another player finish their drink.
Showdown Shooters: Win a shootout, and the defeated player must take a hefty drink.
Playing Red Dead Redemption-Refreshments Sensibly
Considerate Cowboy: It's crucial to ensure everyone in the posse is comfortable and enjoying both the game and the drinks.
Flexible Frontier: Tailor the rules to align with the players' gaming ability and drink tolerance for an unprejudiced experience.
Saloon Style: Encourage responsible drinking, provide ample water, and include non-alcoholic options for those who prefer them.
Red Dead Redemption-Refreshments ingeniously combines the authentic ambiance of Red Dead Redemption's Wild West with the mirth of an energetic drinking game. Keeping things fun, cordial, and responsible, Red Dead Redemption-Refreshments is guaranteed to add a new level of excitement to your gaming nights. Gather your gang, saddle up in Red Dead Redemption Online, pour your beverages of choice, and launch into the radiant horizon! It's time to live it up on the frontier with Red Dead Redemption-Refreshments.