When you kill a Mongol leader, the counter pops up to say observe or kill Mongol leaders to advance. I have never observed any. I am at a Mongol camp now and one of the objectives is to observe the Mongol leader. I can see him down at the beach practising with a spear but I don't know how to observe him.
1

Answer

Observing Mongol leaders is similar to surveying camps which you should have done a few times by now. To observe the leaders, you will need to find a high up area, usually in the mountains nearby the camp where you have a clear view of the leader. 

I think I know the camp you are at now. If you look near the beach, there is a sort of rock feature that arches over the camp. You need to climb up the mountain and run across this arch until you find long grass overlooking the beach. You should see the prompt here to observe this leader. You can look out in other camps for similar opportunities to get a look at the leader before you kill him.

Theres more than enough leaders out there to get the upgrades. You dont need to observe any to max this out so there is not need to worry about it too much if it becomes a chore.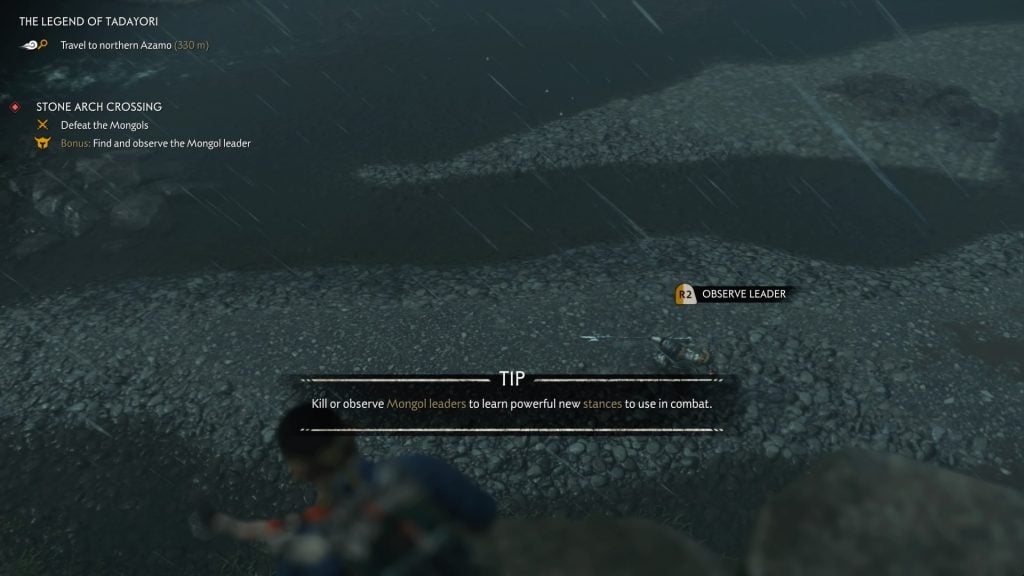 GHOST OF TSUSHIMA QUESTIONS
[Ghost of Tsushima]
- Once you complete the tale for Castle Kaneda in Ghost of Tsushima, are you able to go back to the starting region of the game?
View Answer
[Ghost of Tsushima]
- How do you attach a hook to the grapple points in Ghost of Tsushima when you are not already in the air and swinging? Can you do it while standing?
View Answer
[Ghost of Tsushima]
- Where do you find the white smoke in the ruins of old Yarikawa? I have been running around in the dark and I am unable to find it.
View Answer
[Ghost of Tsushima]
- When you rest at a hot spring in Ghost of Tsushima, does it matter which option you pick for your thoughts? Will they both give the same bonus?
View Answer
RELATED QUESTIONS
[Returnal]
- What are the golden tentacle creatures that run away from you when you enter a room and burrow into the floor?
View Answer
[Returnal]
- How do you destroy the turrets that are surrounded by a red shield in the jungle biome in Returnal? Guns do no damage to it.
View Answer
[Doom Eternal]
- How do you destroy 25 Arachnatron turrets? What are they and how do you destroy them for shotgun mastery?
View Answer