Pokémon Sword & Pokémon Shield Double Pack Questions & Answers
Become a Pokémon Trainer, embark on a new journey in the new Galar region, and unravel the mystery behind the Legendary Pokémon Zacian and Zamazenta! Explore the Wild Area, a vast expanse of land where the player can freely control the camera. And participate in Max Raid Battles in which players will face off against gigantic and super-strong Pokémon known as Dynamax Pokémon. Begin your adventure by choosing one of three new partner Pokémon: Grookey, Scorbunny, or Sobble and encounter new and familiar Pokémon as you catch, battle, and trade. Players can control the camera and explo...
This section is for frequently asked questions, help and tips. If you are looking for help relating to Pokémon Sword & Pokémon Shield Double Pack, a list of questions that people have already asked can be found below.
ABOUT POKéMON SWORD & POKéMON SHIELD DOUBLE PACK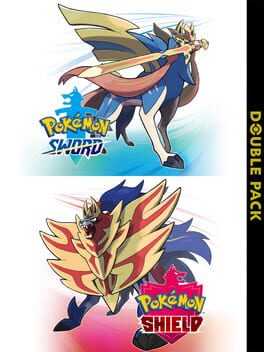 Become a Pokémon Trainer, embark on a new journey in the new Galar region, and unravel the mystery behind the Legendary Pokémon Zacian and Zamazenta! Explore the Wild Area, a vast expanse of land where the player can freely control the camera. And participate in Max Raid Battles in which players will face off against gigantic and super-strong Pokémon known as Dynamax Pokémon. Begin your adventure by choosing one of…