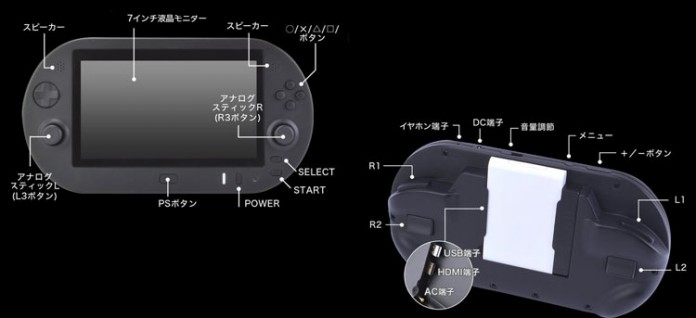 This is a bit of a crazy one, but at the same time awesome! The Playstation Vita TV is a sort of console / TV version of the PS Vita, which is a handheld gaming device. Well someone has gone and created a portable Playstation TV! Logically it doesn't really make sense that there is a portable version of a console that is based on a portable device….I'm confusing myself now. Either way this is pretty interesting.Click here for the Japanese post
The following is the translated text from the original Japanese post. My Japanese is a little rusty so Google translate did the work.
Game Tech, began the Pre-Order of PS Vita TV dedicated monitor integrated controller "DEKAVITA7". "DEKAVITA7" is a monitor integrated controller that can be used by simply setting the PSVita TV on the back. Monitor size is 7 inches (PS Vita 5 inches), enabling continuous play of up to 5 hours. Because it is a monitor that can be connected to an HDMI input and USB controller, it can also be used as an external monitor and controller of the PS3. Pre-Order the official site being accepted at. When now to book, can be purchased at 19,800 yen special price (excluding tax).
DEKAVITA7 (Dekabita Seven)
Compatible models: PSVitaTV body
Monitor: IPS LCD
Monitor size: 7 inches
Display size: about 154.2mm (H) × about 85.9Mm (V)
Monitor resolution: 1024 × 600
Dot pitch : 0.15 mm
Viewing angle: left and right: 175 ° up and down: 175 °
Acceptance period: November 11 from 12:00 November 30 fifty-nine past eleven p.m.
Sale time: scheduled for 2015 spring
Body Price: – Normal price ( tentative): 23,000 yen (excluding tax) – Pre Special Price: 19,800 yen (excluding tax)
Getting a hold of all of this will probably be difficult now considering the PS TV is more dead than the Vita is!