The outrun theme has become an iconic representation of the synthwave scene. Oozing 1980s vibes with a Tron-like cyber vibe. Many games attempt to make use of this visual style, one of which is Outmode. A cyber-themed racing game that lets you drive toward the neon-drenched sunset as you race against hot 1980s supercars.
When it comes to visual style, Outmode has absolutely nailed it. As you speed down the highway with neon palm trees passing you by, you come over a hill and see a vibrant neon sun greet you on the horizon. The synthwave vibes are epic!
On the topic of synthwave, the game features an original soundtrack of synthwave songs. There are only 3 or 4 unfortunately, which will loop quite often but for an indie title, to hear an original soundtrack like this is very surprising considering the art style has also been implemented so well.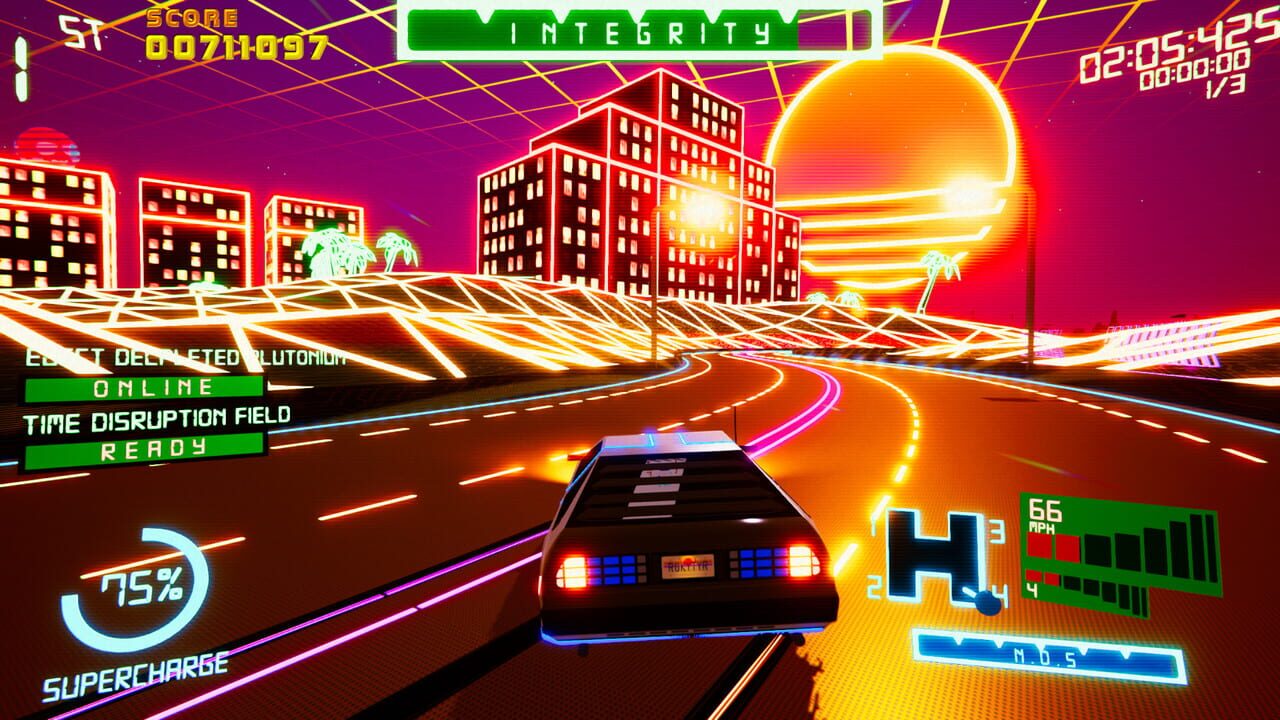 Sound and visual style can only get you so far with a video game. Without some substantial gameplay, a game will never last long. Unfortunately for Outmode, the gameplay is its weakness.
Back in the days of the SNES, a game like Outmode would have sold well. A racing game where you compete against other AI drivers to win a race with a couple of weapons at your disposal and obstacles on the track to make the races a little more unpredictable. In 2022 however, a lot more is expected to keep you entertained long term and Outmode falls a little short here.
The racing itself is not too bad. Even on hard difficulty, it is quite hard to lose a race, simply because there is almost no skill required to drive the cars. There is a limit to how good the game allows you to be. No advanced drifting and driving techniques can be deployed to give you an edge. You can pretty much turn most corners in the game without having to break. Once you learn the track, it is impossible to lose..except when physics gives you the middle finger.
Very often you will find that you clip a wall or another car and rather than skid in a way that a skilled player could recover from, you wildly fly out of control and come to a complete stop. Considering this is probably the only thing in the game that can cause you to lose, it's disappointing that it appears to be a glitch.
Even though there is next to no challenge from the racing component of the game, selecting a manual gearbox adds a challenge that will take you by surprise. Many manual gearboxes in games will adopt the paddle system where you just press a button to shift up or down and it is up to you to keep an eye on the engine RPM to know when to shift. Outmode gives you a proper shifting gearbox. You will need to hold a button to push the clutch and activate the gearstick, you then use the thumb stick or mouse to move the gear stick into the desired gear. This is a really interesting mechanic that adds a fun level of challenge to the races.
The biggest flaw Outmode has is giving you a reason to keep playing. Once you have won a few races, there is very little to incentivise you to play further. Sure, you could grind and grind and grind to unlock more cars but for what? To simply see the appearance of your car change. The races do not offer enough excitement for you to spend several hours grinding coins to unlock all of the cars.
The HUD fits the game's aesthetic but it does not offer you enough information. For starters, a mini-map to give you a better idea of your position would be nice. Especially when you are coming 1st and haven't seen another car in a while. Even when playing with a manual gearbox, it took me a few minutes to find out how to read the rev counter, I was having to rely on the engine sound to know when to shift.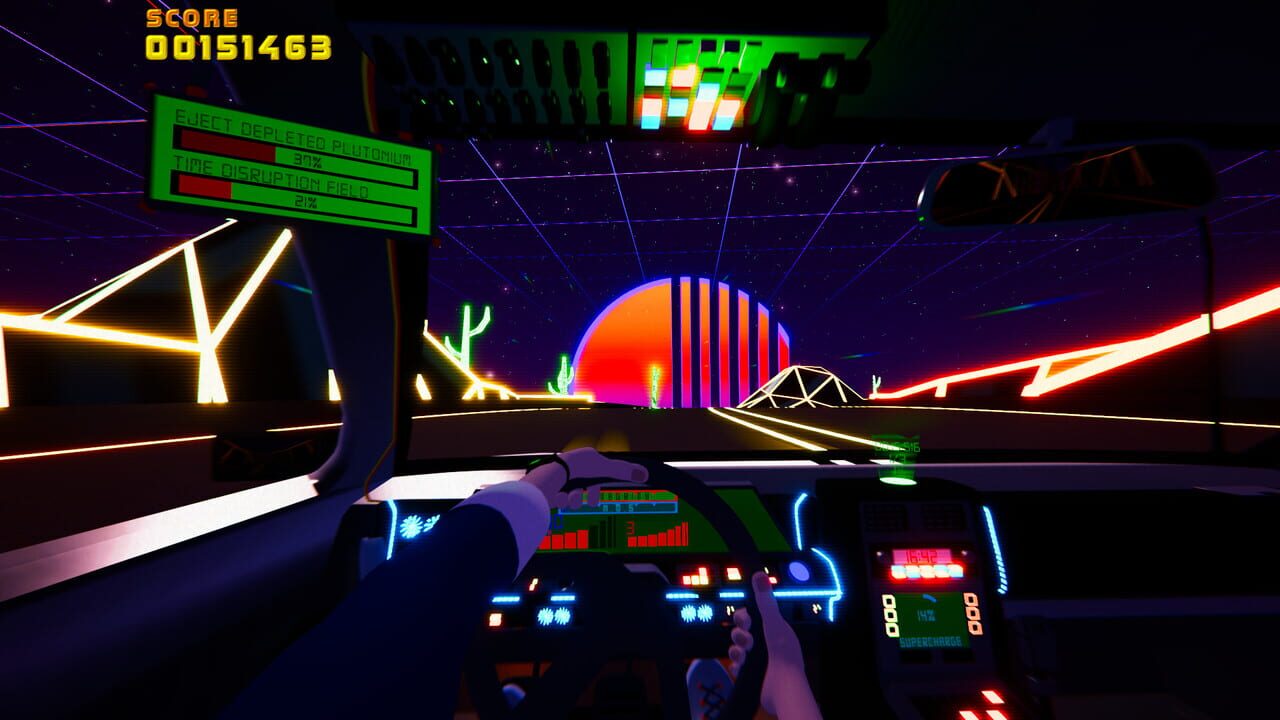 Outmode has really nailed the look and feel but it feels a lot more like a tech demo than a final game. A lot more work is needed to add some level of challenge to the race that gives the player something to train toward. When you can win races on hard difficulty after one or two races, there's nothing left to work toward. Nothing to unlock, no challenge or feeling of satisfaction that comes with practice. With some additional work, Outmode could become a more memorable game but for now, it doesn't feel like it is finished.