The ultimate find in Minecraft. For a time, this was the only thing there was to go hunting for in this game. While the game has evolved a lot over the years with the addition of many new ores and items to go mining for, diamonds remain as coveted as ever. This is why Minecraft diamond seeds are so handy to have.
Diamond mining can be an incredibly time consuming process. Some days you will get lucky and find loads, other days you might not find any at all. That is where this seed list comes to the rescue. If you want to get lots of diamonds, but do not want to spend all that time mining for it, . This section of the Minecraft seed index are for diamond hunters.
Each of these seeds is known to have a large amount of discovered diamonds. With the X,Y and Z coordinates listed for the diamonds that other people have discovered, this collection of diamond seeds will help you get off to an easy start so you can take on the ender dragon without needing to spend days in the mines.
The seeds below will get you off to a good start for diamond hunting by giving you the locations of a lot of diamonds so that you do not need to go hunting for them. If you find some that are not listed in the main guide, be sure to post the coordinates to help others out.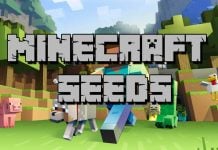 Console Edition TU52
No matter how big your settlement becomes, there is one thing that everyone is alwys going to hunt down...DIAMONDS! I don't know if this seed...