It doesn't feel like a long time has passed since the announcement of the Loot Gaming crate. I wasn't expecting it to arrive for a little bit longer, but the latest Legacy crate for March 2016 arrived in the mail today which was a nice surprise. With some pretty high expectations its time to check out what is inside. Here is our Loot Gaming March 2016 review.
The first thing that came out was a pretty cool retro Super Mario T-Shirt. All of the classic characters from the NES game are printed on the front of the shirt. This is one of the best T Shirts that has shipped in a Loot Crate for quite a while.
Next we have a pair of Skyrim socks. Nothing particularly fancy here, just the Skyrim dragon logo on a pair of black socks. Cool, but nothing to be getting to excited about.
The third item to come out of the crate was another piece of wearable loot. This time it was a hooded Halo Spartan scarf. This one seemed really cool, but once I had taken it out of the packet, the excitement was crushed. It is made out of an incredibly uncomfortable material making it unwearable. I threw it one anyway and the hood is massive. So big that you can no longer see the detail on the side because there are so many creases. If you are a Halo fan, this might be something cool to hang up, but other than that, not a great piece of loot.
The Next piece is a Shadaloo logo pin from the Street Fighter series. The quality of the cast isn't too bad. It will in no way stand out as it does look cheap, but it at least has some detail and straight edges.
The last piece is a Funko Vinyl Figure. I love these figures, but I never get lucky. This time was no exception. I saw on the cover of the box that you could get Arthas from WOW and instead I get some blue space marine. Guessing he is from Starcraft since the box is Blizzard themed. I won't consider this a negative as these are fun…but don't expect to always get the one you want. I did read up and apparently there is an even chance of you getting any figure, so hope for the best that you get the one that you want.
Upon signing up they spoke of a "Founders Bonus". I was looking forward to seeing what this was…turns out it was just a pin. The same kind of pins that come in every crate.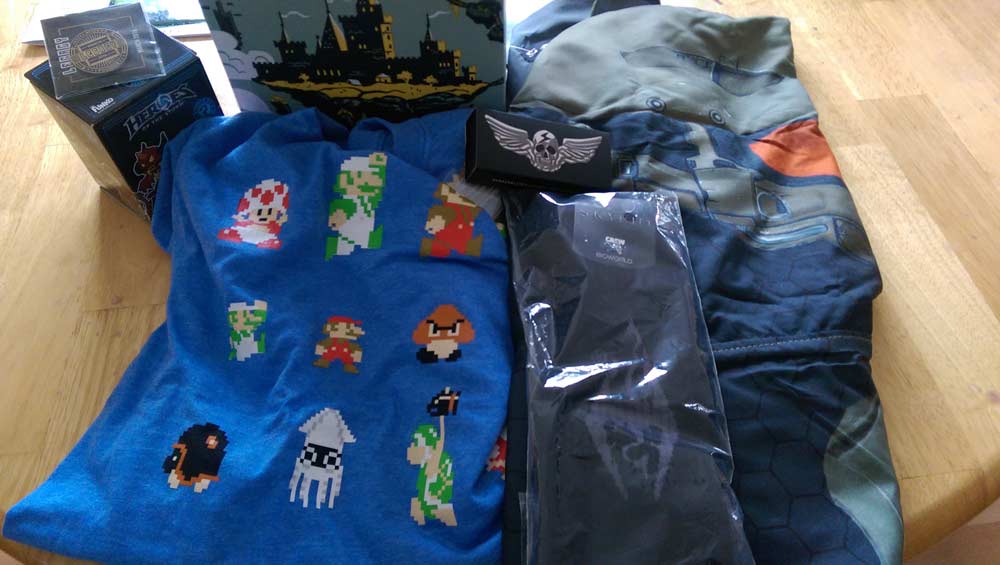 Overall as a first Loot Gaming crate, this one was a huge disappointment. The Super Mario T-Shirt was probably the only item in the crate that was in any way good. The rest of the stuff was pretty much junk that wont be earning a place on any display shelves. Of course, this is not enough to make me want to cancel or anything, but lets just say the first crate is off to a pretty slow start.