I'm looking for other games like Minecraft. Ive seen some on the Google play store before that look the exact same and end up being fake apps that look nothing like the screenshots. With the success of the game there are bound to be some good games out there that are like Minecraft. Anyone have any good suggestions?
8

Games Submitted

Worldcraft

WorldCraft : 3D Build & Craft

The game is played by many young players from all over the world. You can play with them on open servers in Multiplayer and chat, or create private server and build/play alone or invite your real friends/family members. Also you can play survival games: farm, mine resources, craft, tame animals. 

 

 

LEGO Worlds

Minecraft and Lego have a lot in common, you can even buy Minecraft branded Lego. Lego Worlds is a good game to check out for games like Minecraft. It doesn't let you build things quite the way Minecraft does, but no games do, that is why Minecraft is so popular.

LEGO Worlds is an open environment of procedurally-generated Worlds made entirely of LEGO bricks which you can freely manipulate and dynamically populate with LEGO models. Create anything you can imagine one brick at a time, or use large-scale landsc...
view game information
Don't Starve
I found the survival mode in this game to be like survival in Minecraft, except quite a bit harder. You need to go out and scavenge for supplies during the day in order to build machines and other things needed to make it through the game. Once you die its game over though, so there is a lower level of investment into the base building.

Don't Starve: Shipwrecked DLC In Don't Starve: Shipwrecked, Wilson finds himself stranded in a tropical archipelago. He must learn to survive all over again in this new environment filled with new biomes, seasons, and creatures....
view game information
Terraria
It's almost like a 2d Minecraft sidescroller. The visual style alone is very like Minecrafts, but the gameplay is where things get very different. There is a good focus on building though and you do have flexability to make whatever you like, but you are of course restricted by the fact that the game is a side scroller.

Dig, fight, explore, build! Nothing is impossible in this action-packed adventure game. The world is your canvas and the ground itself is your paint. Grab your tools and go! Make weapons to fight off a variety of enemies in numerous biomes. Dig de...
view game information
Roblox
Roblox is very blatently "inspired" by Minecraft. The game is very very similar to Minecraft visually. They have tried to mix up the gameplay a bit to make it a different game and it is enjoyable to play.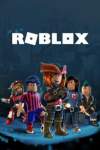 Roblox is an online game where players are free to interact, chat, and friend each other it is filtered and players can report abuse and other bad or inappropriate things, overall roblox is a kid friendly online game....
view game information
Brick Force
This is a first person shooter set in a blocky world. The visual similarities are most of the comparisons you can make between the 2 games, but if that is what you are after then you might enjoy this if you like PvP shooters.
Trove
Trove is a sort of Minecraft RPG. It looks like Minecraft, plays like Minecraft and even has building like Minecraft does, but it is a little more restrictive. What it does differently is implement a more RPG style of combat and character development which makes this game quite a bit of fun. It's also an MMO, so you end up joining into games with a huge amount of players.

Thirsting for danger and lusting for loot? Grab your friends, hone your blades, and set off for adventure in this free-to-play action MMO. The Sun Goddess has shattered the world into infinite realms. Now they're yours to explore, build, and protec...
view game information
Craft The World
This one is like Terraria which was previously mentioned. The visual style is a lot different, but it has the same kind of gameplay and focus on survival with crafting mechanics.

Craft The World is a unique sandbox strategy game, the mix of Dungeon Keeper, Terraria and Dwarf Fortress. Explore a random generated world populated by dangerous creatures, build a dwarf fortress, gather resources, and craft all the items, weapons,...
view game information
Suggest a game
Please explain why the game you are suggesting is a good choice for the topic.
You must be logged in to leave reply. Click here to login, if you do not have an account, click here to register
Suggest A Game