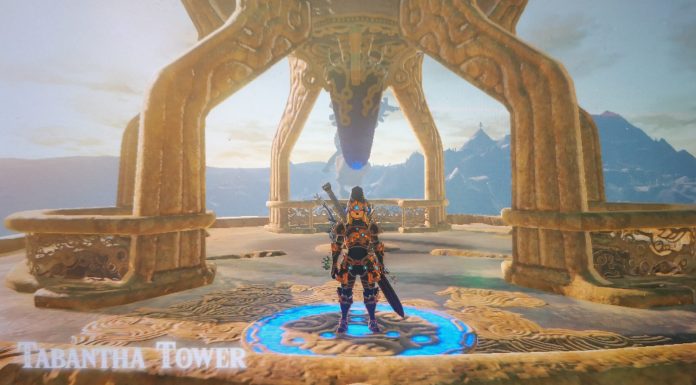 What may seem like a fairly easy tower from a distance, Tabantha tower has a nasty malice infestation at the bottom that will present a challenge for you getting to the top. The bottom of the tower is completely covered with the poison malice. You cant jump over and can't get past it easily.
To get started the location of Tabantha tower can be found using the map below. You will obviously have no view of the specific area but this will give you a rough estimate of where to go to find this tower if you have not been able to spot it from a distance.
In order to climb Tabantha tower, you will need to clear some of the malice. If you have come across this before, you will know you have to shoot red eyes inside the goo in order to make it vanish. There is an eye here, but it is quite difficult to spot.
Go to the back of the tower and you will find there are some large pillars. You can find one that has fallen over. Run along this object and look to the right and you will see an upright pillar that is covered in the goo. If you look close, you will see an eye here. Shoot it and the pillar will fall over. This is your bridge to the tower. Once you walk across it is a clear climb to the top.
If you are having trouble with this or the instructions above are unclear. This video guide will show you exactly where to find the eye and show you what you need to do to reach the top of the tower.
As with all of these Sheikah towers, use Revalis gale to jump right past all of the obstacles here. You will still have to make sure you land at the right point on the tower's frame, but it will at least mean you do not need to find the hidden eye to knock over the pillar.