With any online video game that has some kind of currency, there is going to be a demand for hacks that give people some of this currency for free. Fortnite is one of these games that people are obsessed with. The unfortunate side of things is that absolutely every single thing you find related to generating free vbucks for Fortnite is a lie and I will explain why. This is why you should never trust a Fortnite Vbucks generator.
This guide will not show you how to get free vbucks in fortnite, because it is not possible. Any website that claims to have a fantastic hack that can grant you unlimited free v bucks is not being honest. Some of the sites are less threatening while others may end up installing spyware and other scams directly onto your phone or laptop. It might seem attractive and may seem legitimate, but do not trust any of these. I know the demand out there for free v bucks in Fortnite, but it is all a lie for people to trick you.
The developers of Fortnite would never allow it
Fortnite is a free game. The developer makes no money from selling copies of the game. If a million people play it, they make no money. Epic get their money from people buying things in game. The entire business model is built around v bucks. If there were hacks out there that allowed people to generate this stuff for free, it would completely destroy their business. If someone can quickly Google how to hack Fortnite, then the developers can do the same and figure out what exploit this hack is using and fix it.
Fortnite v bucks generators always need human verification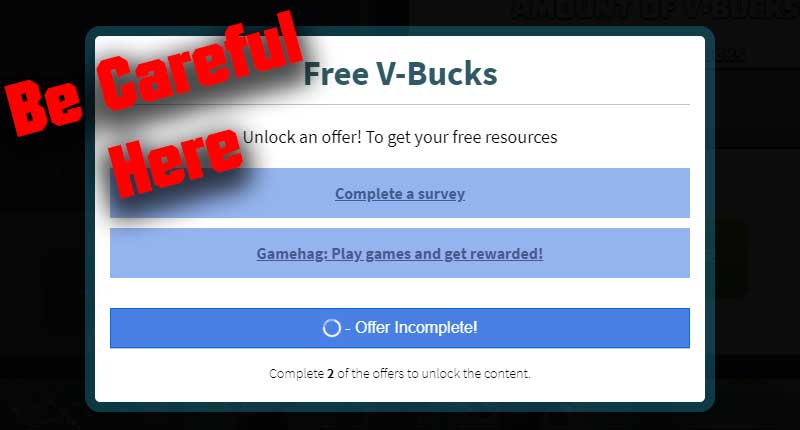 This should be the biggest red flag for anyone wanting to find one of these illusive Fortnite V bucks generators. In order to use the hack and get the money transferred into your account, you will need to take some survey, click some kind of ad, or install something. People get paid for this stuff. Every survey completed makes them money. Once you have completed the survey, they do not want anything from you anymore. They wont give you the v bucks hack because there isn't one.
This goes for a large number of things on the internet. If they require you to take some survey or download an app, you are the product. This website is making money from you by making you complete this task. Once you have completed this, the website will have exactly what they want from you and no longer need you. The authentication will fail, meaning the hack is now inaccessable to you and you can either try a different website, or refresh the page and try again. This is the best step for the website as they get double money from you and you get nothing in return.
Battle pass and anything with Free Fortnite in the title is going to be fake
It is a broad statement to make and is one that is going to remain accurate. Nobody is going to make money by giving you something for free. If they can trick you into doing something and then still giving you nothing, they win. Don't fall for these things. They are always going to be lies.
There are a lot of young people playing Fortnite Battle Royale who do not have a lot of disposable income to spend on gaming. The idea of a fortnite vbucks generator is so incredibly attractive that it is worth the risk of doing a survey or something simple just to check.
Fortnites Save the World game mode does also make use of Vbucks in trying to get some currency for in game items and chests. People may not want them as much but do not follow these scams either.
A hack for free vbucks would get you banned
Epic, the developers of Fortnite need to protect their business. If there was a hack that allowed you to get free v bucks, epic would eventually be able to catch you for using it. Stealing and cheating is not a good thing. They may not take legal action against you, but your account would be shut down. All of your progress in the Battle Royale games. All of the costumes that you purchased with real money. Endless hours of hard work will all be gone.
Don't risk throwing everything away for this. There are no known hacks to give you free currency, it is a waste of time trying to use any of these. You never know who is using these pages. If it is a trap, a scam or any other thing that will cause you trouble. The best thing you could possibly do is stop your search. If you have come across this post because you are looking for a Fortnite Vbucks generator, then please stop your search now. You are not going to find what you are looking for. The only thing you are going to get is into trouble.