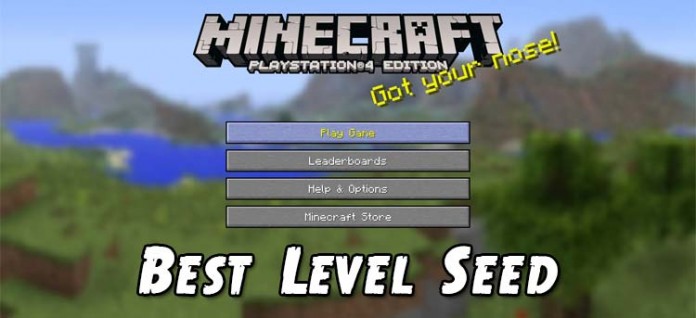 This is one of the best Minecraft survival seeds I have found for the PS4 and Xbox One. This seed will work for the PS4 and Xbox One version of the game. The spawn point and starting map have all the different biomes. You spawn right next to a village, and a short walk from a desert temple. Below are a list of coordinates for all major things discovered in this seed so far. Click the heading to show the coordinates. Leave a comment below if you find anything worth sharing and I will update the post with the coordinates.
This seed no longer works with the latest patches. All future seeds will be submitted to the Minecraft seed index, see the list for the latest seeds. 
Note: It woul appear that recent patches have altered the way the game renders the world. If you want to use this seed you will need to delete your game data and render the world without any of the patches.
SEED : 7863345508791651498
If you don't see this when you first start the game then you have done something incorrectly.
Mine Shaft 1 – X:264, Y:28, Z:216
Desert Temple 1 – X:278, Y:66, Z:348
Creature Spawners
End Portal – X:883, Y:30, Z:959
Below are the coordinates for rare minerals such as diamonds, emeralds and gold. Clicking the heading will expand the list revealing all the coordinates. If you find any rare stuff while playing please post the coordinates in the comment section below and I will update the list. You can find out the coordinates by opening a map. The coordinates will be listed at the cop of the page.
Emeralds
Diamonds
Gold