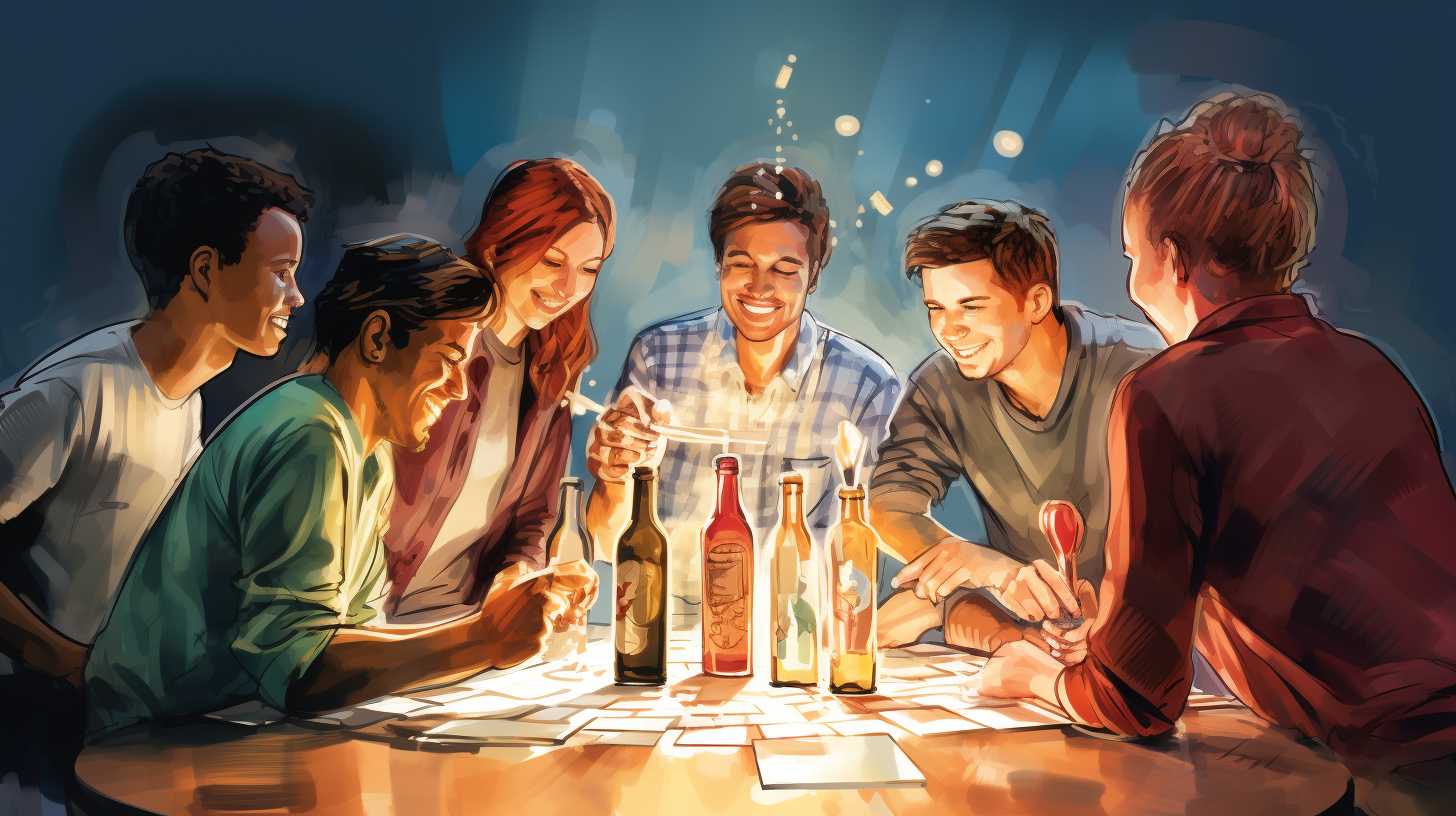 Calling all Archer fans! Embark on a global tour of thrills, humor, and a dash of world-class spy business with our Archer Drinking Game. Prepare your favorite drinks and join Sterling Archer, the world's most perilously suave secret agent, and the fray of colorful characters in their topsy-turvy adventures.
Game Setup
Before we dive into this animated world of secret missions and snappy humor, let's set the board:
Episodes: Any episodes from the Archer series
Drinks: Your favorite alcoholic beverage (beer, wine, or cocktails)
Participants: At least 2 players (because more secret agents mean more fun!)
Optional: A printed copy of the drinking rules for easy reference during the game
Establish how much you'll drink for each rule before starting!
Rules
Hold on to your hilarity and your beverages! Take a sip whenever these distinctive events unwind:
Main Characters
Sterling Malory Archer

Refer to or endorse his favorite drink: "Burt Reynolds, it's incredibly smooth."
Wear his trademark black turtleneck or speak about its versatility
Discover a troublesome or amusing situation due to his ego or recklessness

Malory Archer

Disclose her manipulative schemes or shady actions
Is seen drinking or referring to her love for alcohol
Act haughty or express condescension towards her son's or staff's incompetence

Lana Kane

Use her signature "Yupo" catchphrase
Express exasperation at Archer's antics or unprofessionalism
"Truckasaurus" hands are mentioned or shown

Cyril Figgis

Acts insecure or brings attention to his low self-esteem
Relapse into his sex addiction problems or the phrase "Suppressing fire!" is yelled.
Be mistreated or disrespectfully ignored by Archer

Cheryl/Carol Tunt

Display her eccentric behavior or her infatuation with Archer
Alter her name or references to her wealthy lineage
Act out her peculiar love for danger, violence, or strangulation habits

Pam Poovey

Reveal shocking details about her violent or bizarre past
Impresses or surpasses others with her strength or street smarts
Bring forth her love for food or openly discuss her sexual experiences

Krieger

Unveils a new, outrageous scientific creation or experiment
Makes a suggestion or action that's ethically questionable
His dubious identity or potential Nazi ties are referenced
Supporting Characters & Recurring Events
Woodhouse

Is shown to be mistreated or ridiculed by Archer
The addressing of his heroin addiction

Ray Gillette

Shows a new ability or strength after a paralyzing accident
Mentions or is involved with the Olympics (such as the bionic legs)

Mission Briefings: A scene takes place in the briefing room
ISIS: Archer or anyone mentions or references ISIS, their former spy agency
Optional Rules
Celebrity Voices: When a celebrity voice actor appears in any role
Flashbacks: Any time a character is shown a wild or humorous flashback
Obscure Reference: Archer or any character makes a reference that needs an explanation
Game End
Once the episode you're watching reaches its exciting conclusion, take a breather from sips and suspense. With over a decade's worth of Archer episodes, you've got plenty more rounds to enjoy!
So call in your squad, put on Archer, and prepare to endure high-stake missions, side-splitting humor, and copious drinks. Bottoms up, agents! 🍻